Downing adapts to embrace new challenge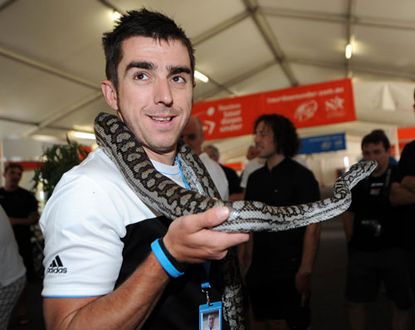 Russell Downing came to Australia with a solid winter base in his legs, despite the best efforts of the British winter.
The Brit spent a week in Portugal before Christmas and then spent much of his time on a turbo, training indoors with the heating turned up, before flying out to Australia following Team Sky's launch.
The Briton has dominated bike racing in the UK for years, but with a big step up in competition looming he is taking on board the more analytical methods that British Cycling's coaches have brought to Team Sky. "I think it's the first time I've put a pulse monitor on for ten years," he said. "I used to use them, but then switched from that to feel."
"Now we're on SRMs and pulse rate. Obviously now things are being monitored so you can't just say; 'yeah, I feel good.' They need to know the numbers are there, they need to know you're going to perform and that you can do a certain job at a race, because there's not just one person there, there's 25 guys queuing up who can take your spot."
Downing is now working with Team Sky's coach Rod Ellingworth and Sports Director Sean Yates, as he moves from a diet of British racing to the ProTour. "Nothing's changed, there's probably just a bit more structure to it, and a bit more feedback. Sean is more 'on the road' but you can speak to him if you need anything, and Rod's put me on the programme through the winter.
"There's nothing I'm doing that has made me think, 'oh, bloody hell, I wish I'd known that years ago.' It's much the same but you can always learn a little bit from a coach like Rod. That's how I've trained over the years, I've listened to a million people and took the information that I thought worked for me."
Downing will stay on in Australia after this week's Tour Down Under before heading over to the Tour of Qatar. After that he is likely be involved with some of the Ardennes classics, and put down Amstel Gold as a big target for 2010.
The task of stepping up to the ProTour after years of predominantly domestic racing isn't lost on Downing, but he's been waiting so long for the chance that he's determined to grab it. "I've been knocking on the door for years and I'm finally here, the hard work starts now," he said.
"Every time I went to Europe I always did a ride and now I think with the right team and with the right backing I can be there for stage [wins], definitely. The objective of the year is the smaller stage races and a look at a few classics as well."
Tour Down Under 2010: Race reports
Cancer Council Helpline Classic: Team Sky off to perfect start as Henderson wins
Tour Down Under 2010: Related links

Tour Down Under news round-up (Jan 16)
Armstrong leads thousands on Twitter ride in Adelaide
Team Sky ready for first race

Armstrong warms up Down Under

Armstrong in Australia: "I'm in better shape than last year"

Team Sky gets ready for Tour Down Under

Tour Down Under 2010: Start list

Lance Armstrong to ride 2010 Tour Down Under
Cadel Evans and BMC to ride Tour Down Under
Tour Down Under teams confirm rosters
Davis wins 2009 Tour Down Under
Tour Down Under 2010: Photo galleries
Cancer Council Helpline Classic
Armstrong in Adelaide
External link

Tour Down Under official website
Thank you for reading 5 articles this month* Join now for unlimited access
Enjoy your first month for just £1 / $1 / €1
*Read 5 free articles per month without a subscription
Join now for unlimited access
Try first month for just £1 / $1 / €1