Erick Rowsell: a hell of a day for a Milan-San Remo debut
Erick Rowsell made his debut in the longest one-day Classic left on the calendar, Milan-San Remo. He might have picked better weather for a seven hour ride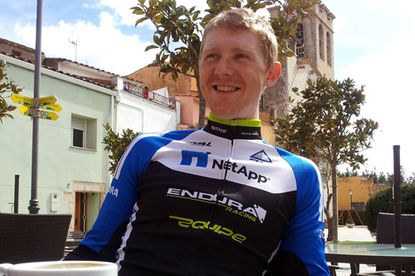 (Image credit: Kenny Pryde)
Young NetApp Endura pro Erick Rowsell had such a strong start to his season that he got the nod to ride in his first Milan-San Remo at the weekend.
The 23-year-old from Surrey had lead out Sam Bennett for a win in Classica de Almeria and helped Tiago Machado finish second to Alejandro Valverde in the Vuelta a Murcia, which was more than enough to snag him his debut ride in the longest one-day race in the pro calendar.
"I could have picked better weather, some of the guys who rode last year, when it snowed, said it was actually colder and harder this year because they got a break in the team buses last year and it was shorter. I rode for seven and a quarter hours and I think for six and half of them, it rained. After the second feeding station my hands were so cold I poured hot tea over my gloves, which was great for three minutes, but it was so cold."
Rowsell's job was as one of four designated riders on the NetApp Endura team to get in the early break that inevitably makes its escape early in the race.
"For a team like us given a wild card, who maybe aren't sure of having a man for the finish in a Pro Tour race, it's important to get in the early move, because that way you are showing the team and getting good media coverage.
>>Race report: Alexander Kristoff wins Milan-San Remo
"There were a lot of attacks at the start and I made it into three or four. I'd be riding really hard in the break, thinking that we had to have a decent gap then look round and see the whole bunch right behind us with Omega Pharma on the front. In the end we had Jan Barta in the move and, halfway through the race I was thinking it was maybe just as well I hadn't made it into the move, it was such a brutal day."
From that point on Rowsell was working for Bartosz Huzarski, keeping the Pole out of the wind and was still in the front group as the race approached the crucial Capo Berta climb.
"I had got to the front of the bunch, about third or fourth wheel, because it was so dangerous in the bunch, there were a lot of crashes and conditions were really tricky going through the towns and roundabouts, so it was much easier at the front.
"I admit I thought I was living the dream when we hit a climb and I cracked. But because I had started at the front I thought I'd drop back the big bunch and it'd still be OK. But as I went backwards there were only about 60 guys, not 200 and I was gone, but I had done 240km in the front group, which was further than I've ever raced.
"I was so cold, I was just done, though now, the day after, I'm thinking that I should have forced myself to go over the Poggio and finish. At the time though all I wanted to do was get to the team bus and warm up. I ended up riding to San Remo and doing seven and a quarter hours and I'd say six and a half were in the rain."
Rowsell - who finished fifth in the Ronde van Drenthe in Holland last week - is clearly in decent form.
"My next race is the Criterium International this weekend where I'll be working for Machado and Jose Mendes again and then the Circuit de la Sarthe which sounds like more like a course that will suit me, though I'm getting over climbs quite well at the moment."
Such are the benefits of living and training in Girona? "Yes, you can't really go on a ride around here without including a lot of climbing, but it's paying off!"
Mark Cavendish talks through the finale of Sunday's Milan-San Remo, run in cold temperatures and pouring rain
Ben Swift says he felt 'better and better' as the 300km Milan-San Remo progressed, eventually placing third
Britain's Ben Swift (Sky) places third behind Alexander Kristoff and Fabian Cancellara in Milan-San Remo 2014
Thank you for reading 20 articles this month* Join now for unlimited access
Enjoy your first month for just £1 / $1 / €1
*Read 5 free articles per month without a subscription
Join now for unlimited access
Try first month for just £1 / $1 / €1