What exactly makes a good bike shop?
What makes a good bike shop? What sets one shop apart from another?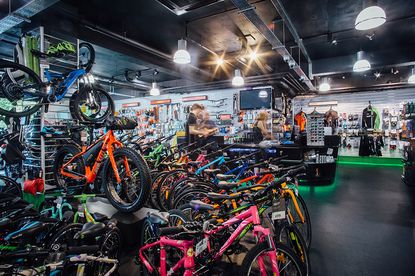 Promotional feature with Lezyne
When it comes to answering that question, few brands can answer that question better than Lezyne.
The company, in just its 11th year, is a leading supplier in pumps, tools, bags, LED lights and GPS. Through their UK distributor Upgrade Bikes they are forever on the pulse of what keeps us going back to our local bike shops and what us customers want to see more of.
We are the voice and they are the listeners who react. "Let's say a customer has an issue. They go back to the bike shop who in turn contact us and will maybe send a product back," Rory Hitchens, the marketing and senior brand manager of Upgrade Bikes, said.
"If we at Upgrade Bikes spot a trending niggle, we'll give feedback to Lezyne who will then tweak the product to make it better. That link is crucial with independent bike shops. They offer us a valuable view point and engage us in the customer feedback loop.
"What customers can give to their bike shop, and how they can improve it, is valuable part of our business."
That circle of communication and adaptation has meant that Lezyne knows exactly what type shops are succeeding. Hitchens added: "The successful independent bike shops are very service-orientated.
"Customers have a choice where to buy their bikes, their accessories and their clothing from and the internet has made thing much easier. But the customer service aspect is really important, both during the sale and after the sale.
"You can buy a bike full of Di2 and something might not be working right. You go back to the bike shop and they fix the problem; you can't get that level of service online."
The understanding of what makes a bike shop successful is why Lezyne are delighted to sponsor Britain's Best Bike Shop which allows you to vote for your favourite road and mountain biking store in the UK; and just by voting you will be entered into a prize draw to win goodies in excess of £600.
The future of local bike shops, Hitchens believes, can be a positive one, if they continue to evolve to the changing market and immerse themselves within the cycling community.
"Those shops that increase their customer service do better," he said. "It's about getting the community into the shop, generating club rides from their stores, having themed evenings.
"People like doing things with other people so if you can draw people into events, and create a group activity, people will go to the shop and probably buy something.
"If a customer goes on the Tuesday night ride from his local bike shop all the time but still shops online, they will eventually feel guilty and buy from the bike shops. It all starts with what goes in at the shop."
Thank you for reading 10 articles this month* Join now for unlimited access
Enjoy your first month for just £1 / $1 / €1
*Read 5 free articles per month without a subscription
Join now for unlimited access
Try first month for just £1 / $1 / €1