FIREFLIES ALPINE CHALLENGE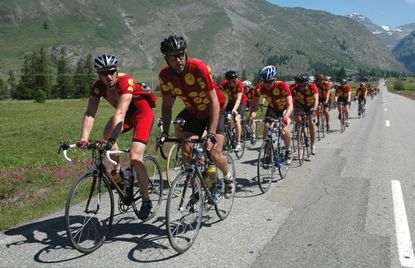 IT?S not just the competitors of the Dauphiné Libéré who are suffering in the Alps this week. A 50-strong peloton from the advertising and film industry are midway through a 1,000-kilometre ride from Geneva to Cannes, taking in the climb of Alpe d?Huez en route.
The annual Fireflies charity cycle was launched seven years ago by film director Ridley Scott, whose apocalyptic vision of a futuristic metropolis in the film Blade Runner echoes almost perfectly the experience of commuting by bike through London. The Fireflies ride has expanded every year since the original event in 2000, and this year?s participants set off from Geneva on June 12. They expect to arrive in Cannes on June 20, in time for the Cannes Lions International Advertising Festival.
Fireflies is raising money for Leuka, the Hammersmith Hospital?s leukaemia charity, and the hope is to bring total funds raised for Leuka to £500,000.
Actor Dougray Scott, who supports the Leuka charity and who appeared in Mission Impossible and Desperate Housewives, says, ?People with cancer face something like climbing a mountain every day. It?s humbling.?
For more information, or to make a donation, go to www.thefirefliesride.com.
Thank you for reading 10 articles this month* Join now for unlimited access
Enjoy your first month for just £1 / $1 / €1
*Read 5 free articles per month without a subscription
Join now for unlimited access
Try first month for just £1 / $1 / €1
Edward Pickering is a writer and journalist, editor of Pro Cycling and previous deputy editor of Cycle Sport. As well as contributing to Cycling Weekly, he has also written for the likes of the New York Times. His book, The Race Against Time, saw him shortlisted for Best New Writer at the British Sports Book Awards. A self-confessed 'fair weather cyclist', Pickering also enjoys running.