GAYWOOD WINS WALLY GIMBER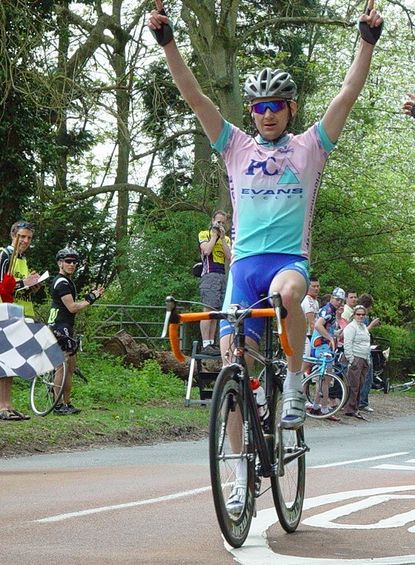 SIMON Gaywood helped the Plowman Craven Racing Team secure a second win in as many days when he won the Dulwich Primavera Wally Gimber road race at Tenterden, Kent, on Sunday.
Team-mate Tony Gibb sprinted to victory in the Eddie Soens Memorial at Aintree the previous day, but Gaywood showed the team?s strength in depth when he crossed the line ahead of his six breakaway rivals at the end of the101-kilometre event.
The early threat came from AW Cycles? Rob Enslin, but a chase group soon swallowed him up, including Gaywood, Richard Sykes-Popham (KFS Special Vehicles), Roy Chamberlain (Team Corley Cycles) and Chris McNamara (Wildside RT).
The five powered on and established a lead of more than a minute on the bunch but, not wanting to miss out on the limelight, another Plowman Craven rider, Simon Richardson, soloed up to the leaders to help his team-mate.
In the sprint for the line, Gaywood won by inches from Sykes-Popham, while Chamberlain held off Enslin for third spot.
Elsewhere, Dean Downing (Rapha Condor-Recycling) made up for the disappointment of finishing second to Gibb in the Soens when he won the Chapters Handicap Road Race at Stokesley, North Yorkshire, on Sunday.
Downing took a comfortable win by eight seconds from Kevin Byers (Fietsen Tempo), while Mark Wordsworth (Corley Cycles) was third, another 13 seconds behind.
Dulwich Primavera Wally Gimber (Tenterden, Kent).-
1 Simon Gaywood (Plowman Craven RT) 2-35-00
2 Richard Sykes-Popham (KFS Special Vehicles
3 Roy Chamberlain (Team Corley Cycles)
4 Rob Enslin (AW Cycles)
5 Simon Richardson (Plowman Craven RT)
6 Chris McNamara (Wildside RT)
Thank you for reading 20 articles this month* Join now for unlimited access
Enjoy your first month for just £1 / $1 / €1
*Read 5 free articles per month without a subscription
Join now for unlimited access
Try first month for just £1 / $1 / €1