HOLTON WINS RUDY PROJECT ROUND SEVEN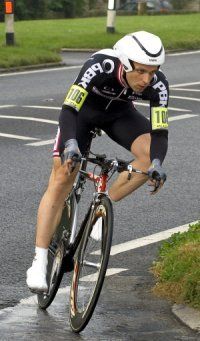 THE battle for the final round of the RTTC-Rudy Project National Time Trial Series will go right down to the last round after Mark Holton (Pro Bike Kit) took victory in round seven at Penistone, South Yorkshire, on Sunday.
Round one winner Holton (pictured), who has been second to Kevin Dawson (Sportscover.com) for much of the series, scored another victory to take maximum points, while Dawson could only manage fourth while Preston Wheelers? Jimmy Wright took second and Matt Bottrill (De Rosa RT) third.
?It was a really bad day at the office,? admitted Dawson. ?Things just didn?t really go my way at all, but I live to fight another day. The course wasn?t really well suited to me - I prefer something less technical - and it was raining and slippery.?
Holton covered the 21-mile course in exactly 50 minutes to win by 30 seconds from Wright, while Bottrill was another 15 seconds off the pace. Dawson clocked 50min 48sec for fourth spot.
The series will now be decided at the final round Middleton, Northamptonshire, on October 11.
In the women?s event, leader Michelle King was a non-starter, leaving Fat Birds CC rider Louise Day to take victory with a time of 1-00-10, beating Reading CC rival Tridu Sammons by 18 seconds.
Pic: FlamingPhotography.co.uk
Rudy Project National Series (Penistone, South Yorkshire, 21 miles).-
Men.-
1 Mark Holton (Pro Bike Kit) 50-00
2 J. Wright (Preston Wheelers) 50-30
3 M. Bottrill (De Rosa RT) 50-45
4 K. Dawson (Sportscover.com) 50-45
Women.- Louise Day (Fat Birds CC) 1-00-10.
Thank you for reading 20 articles this month* Join now for unlimited access
Enjoy your first month for just £1 / $1 / €1
*Read 5 free articles per month without a subscription
Join now for unlimited access
Try first month for just £1 / $1 / €1