John Degenkolb still Plan A for Germany at Road World Championships
Paul Voss backs recovering Deutschland team-mate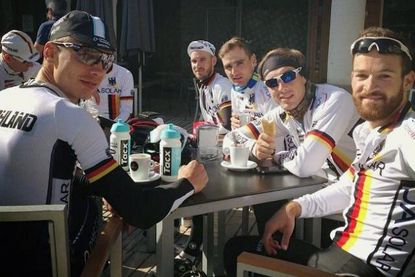 Germany is set to enter the elite men's UCI Road World Championship tomorrow with John Degenkolb as its "Plan A" despite his uncertain form after being hospitalised for a severe lymphatic infection.
The national team was due to meet last night and discuss strategy ahead of Sunday's 254.8km race of attrition in which Degenkolb's national team-mate Paul Voss will make his senior world title debut as part of an exceptionally strong nine-man squad.
"I was in the pre-selection and then they told me at the Vattenfall Cyclassics - Hamburg that I'd been selected. Since then I've prepared specially for this race," Voss told Cycling Weekly in a telephone interview yesterday. "It's a big honour. The past three years I was always in the pre-selection and never made the final cut so I'm really proud and really looking forward to representing my country."
Six-time Tour de France stage winner Andre Greipel will act as road captain with Tony Martin, who claimed silver behind Bradley Wiggins (Great Britain) in the elite men's time trial earlier this week, and Christian Knees as engines. Degenkolb's Giant-Shimano trade team-mates Simon Geschke and Johannes Frohlinger have previously shown their worth in a lead-out and will no doubt do so again if the race caters. Paul Martens and Dominik Nerz round-out the team and will both enter the race in Ponferrada, Spain on the back of the Vuelta a Espana.
"It's a really good vibe. We're laughing a lot, talking a lot of bullshit, making jokes and I think everyone is enjoying it. That's also an important part for the weekend to work as a team," Voss said.
Degenkolb won four stages and the points classification at the recent Vuelta a Espana and was a hot favourite for the Ponferrada title. However, the Gent-Wevelgem champion was hospitalised after the event last week when wounds sustained in a stage seven crash became badly infected.
"The main guy is John. We will see how he feels in the final but he is Plan A and everyone is going for him," Voss said.
Degenkolb can manage and bounce back from injury quickly as he showed at the Vuelta and at the Tour de France this year. At the Tour, the 25-year-old suffered a painful gluteus maximus rupture in a stage five crash and was visibly suffering on the first rest day. However, 24 hours later, he led the charging peloton to finish second behind solo winner Tony Gallopin.
"I think we have a really good team to, if we have to, control the race," Voss said. "We really have to see how John is and then we will decide in the race if we maybe have to change the plans or not."
The 28-year-old Voss is uncertain how the elite men's road race will unfold with the undulating 18.2km circuit suitable to versatile sprinters but also opportunists. Similarities have been drawn with Milan-San Remo, which yesterday's under-23 event supported. Norway's Sven Erik Bystrom celebrated a solo victory ahead of a 38-strong chasing pack after making a late dash on the final descent to the finish.
"At first it looks easy but I think if you have to do 14 laps it can be quite hard, especially because you have no flat parts, really," Voss said. "You go into the finish and then through the town there's a lot of corners and roundabouts so it's a lot about positioning in the right moment. It's not that hard but definitely not easy and I think it can be, especially when it's raining, a really hard race. I don't see 50 guys coming to the line, honestly, because right now we have a tailwind on the climb, so it will be fast."
Germany has conducted ample course recon looking at the climbs that feature on the circuit. Whilst teams including Italy and Spain have built their squads around climbers, the ascents haven't been deemed difficult enough to eradicate the more versatile sprinters like Degenkolb, Michael Matthews (Australia), Alexander Kristoff (Norway) and Ben Swift (Great Britain), or opportunists like Simon Gerrans (Australia), Fabian Cancellara (Switzerland) and Peter Sagan (Slovakia).
Germany has a marginal gain in that its accommodation is by the circuit unlike Italy, for example, which is staying some 100km from the start.
"Two days ago everyone arrived and everyone did one lap but our hotel is directly on the circuit, at the start of the long climb, so we have a perfect spot and can see it everyday if we want," Voss joked.
"I've felt quite strong in the last races and all my data is showing I'm in good form. I feel healthy and fresh but one day races are always difficult. You can feel shit in the start of a race and then your legs can be better after 200km so it can change a lot. I'm ready."
Degenkolb, fully recovered or not, will be a marked man tomorrow though his team seems up for the challenge.
"I don't think [rivals] want to come to the line with John because then it's hard to beat him, so they have to try and make the race hard," Voss concluded.
Twitter: @SophieSmith86
German quadruple Vuelta a Espana stage winner John Degenkolb in hospital after infection flared up
Swiss rider Fabian Cancellara wants the road race rainbow jersey to add to his four time trial titles
Medals by nation, and list of all medals winners in the 2014 UCI Road World Championships
Thank you for reading 20 articles this month* Join now for unlimited access
Enjoy your first month for just £1 / $1 / €1
*Read 5 free articles per month without a subscription
Join now for unlimited access
Try first month for just £1 / $1 / €1