Kangaroo knocks former Australian cricketer off bike (video)
Bronwyn Calver's video shows the moment when a kangaroo jumped a barrier and under the front wheel of her bike, sending her crashing to the tarmac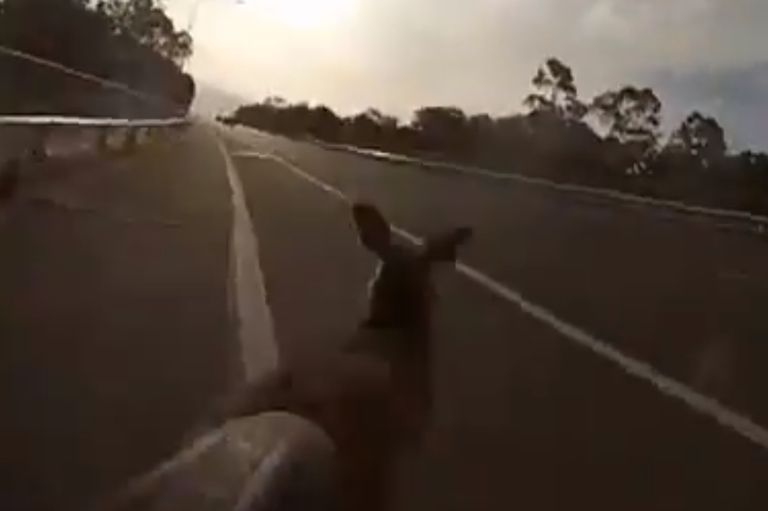 With riders posing for endless photographs with kangaroos and koalas before the Tour Down Under you'd be forgiven for thinking Australia's marsupials are a cyclist's best friend.
But former Australian cricketer Bronwyn Calver won't be out to pet a kangaroo any time soon after one of the jumpy blighters knocked her off her bike in Canberra on Monday.
>>> Cyclist wiped out at high speed by deer (video)
The video above shows Calver, 45, merrily going along her way on Adelaide Avenue when the animal hopped over the barrier and into her front wheel.
As if oblivious to the carnage, the kangaroo simply hops away, leaving Calver, who played three Tests and 34 one-day internationals for Australia's women's team, sprawled on the tarmac.
Several cars stop to aid the former cricketer back to her feet, after which she required just eight stitches.
>>> Rider towed by dogs hit by herd of deer (video)
Calver reports under her video that the kangaroo, however, was not so lucky: "I escaped relatively unscathed with no broken bones but a severely grazed and bruised elbow, grazed hip and eight stitches in my knee.
"While the roo did hop away, it jumped over the railing on Adelaide Ave down to State Circle where it was subsequently hit by a car and killed."