Laura Trott and Adidas launch new Adistar cycling range
With decades of experience making cycling clothing Adidas has launched its new Adistar cycling clothing range with reigning double Olympic champion, Laura Trott.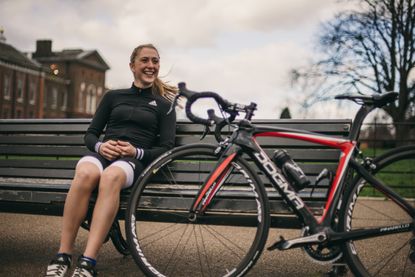 Adidas has a long history in cycling, having provided the kit of Eddy Merckx's all conquering Molteni team back in the sixties. The new range seeks to embody the heritage of the brand, whilst incorporating innovation, performance and style. The clothing, available in mens and womens specific cuts, is of an aerodynamic race fit suitable for anyone wanting wind cheating advantage.
>>> Can an aero helmet make you faster?
The range, which can be found on the Adidas website, features short and long sleeved jerseys, bib shorts, jacket, gloves, and a womens body suit. The jerseys and shorts are available in black on white or white on black colour ways and can be seen in the above photo.
>>> Rapha launch new data print clothing
Adidas tells us the new range has several innovative and technical features. 'Dragzero' fabric is used, with a a full covered front zip for additional drag reduction. The shorts, available in black, or black and white, utilise a carvico revolutional energy fabric, designed to offer quality compression, which Adidas claims can help mitigate fatigue.
The hems are described as being 'jet fighter wing inspired trailing edges' that are perfectly smooth and flat, reportedly providing superior aerodynamics. A 'raceplus' fit is described as body hugging, whilst providing compressive, muscle supporting fabrics for high speed racing.
We have had a chance to test the jersey and can confirm that the fit is body hugging, with us being especially impressed with the fit around the shoulders and torso. In addition, we like the understated styling too – it is also refreshing to see women's kit that is not pink or lilac.
For more information, head over to the Adidas website (opens in new tab).
Thank you for reading 5 articles this month* Join now for unlimited access
Enjoy your first month for just £1 / $1 / €1
*Read 5 free articles per month without a subscription
Join now for unlimited access
Try first month for just £1 / $1 / €1
Oliver Bridgewood - no, Doctor Oliver Bridgewood - is a PhD Chemist who discovered a love of cycling. He enjoys racing time trials, hill climbs, road races and criteriums. During his time at Cycling Weekly, he worked predominantly within the tech team, also utilising his science background to produce insightful fitness articles, before moving to an entirely video-focused role heading up the Cycling Weekly YouTube channel, where his feature-length documentary 'Project 49' was his crowning glory.