Laurent Jalabert named in fresh Michele Ferrari link
Former French pro named in book extracts as having worked with banned Italian doctor, Michele Ferrari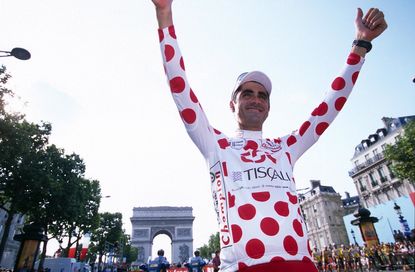 (Image credit: Yuzuru SUNADA)
Laurent Jalabert, France's former national coach and number one cyclist, has once again been linked to doping doctor Michele Ferrari. On Friday, French newspaper Le Monde printed excerpts of a new book where former national rugby doctor, Jacques Mombet made the connection between the rider and the banned doctor.
Mombet explained that he met with Ferrari and Doctor Francesco Conconi in Rome in 1993 to understand how they worked and that he asked about their noted cyclists.
"Jalabert," Mombet said they told him. "They detailed the protocols, how they arrived by private plane to training sites with their products, how they went through cure periods, take it for ten days, stop for fifteen days, repeat the cycle to repeat three times in total. They talked about everything: growth hormones, testosterone, EPO..."
Jalabert, 46, won the Vuelta a España overall, the points and mountains classifications in the Tour de France, and monuments Milan-San Remo and the Giro di Lombardia.
Dr Michele Ferrari filmed out riding in US Postal jersey as he calls any relationship with Astana 'absurd'
Ferrari's most famous client, Lance Armstrong also linked Jalabert to to the Italian doctor. During a 2013 interview with Le Monde, Armstrong said Ferrari worked as the doctor in Jalabert's ONCE team.
"Ah, 'Jaja,' with all due respect, he's lying [if he says he didn't dope]," Armstrong explained. "He would be better off avoiding talking about Ferrari and 'Doctor Citroen' because he knows very well that Michele was the ONCE doctor in the mid-1990s."
Ferrari responded on his website after the Le Monde article, as he has done in other instances, denying that he doped Jalabert.
"I never met Jacques Mombet," Ferrari said. "In '93 I did not know Jalabert: I met him only once, in the summer of '97, in Mazamet for an uphill test on the road. We talked about the results of the test and training in general, nothing else.
"I have never travelled on 'private planes,' to distribute 'products' or doping protocols, let alone to Mr. Jalabert, to whom I never even gave an aspirin. I have never been doctor for the ONCE team."
Retroactive tests carried out as part of the French Senate inquiry in 2013, showed Jalabert used EPO at the 1998 Tour de France. In testimony, Jalabert said that he never knowingly took drugs or sought out and paid doping doctors.
In the fallout, Jalabert stepped down as France2 television's cycling co-commentator.
Thank you for reading 20 articles this month* Join now for unlimited access
Enjoy your first month for just £1 / $1 / €1
*Read 5 free articles per month without a subscription
Join now for unlimited access
Try first month for just £1 / $1 / €1