Doctor Ferrari in denial over USADA case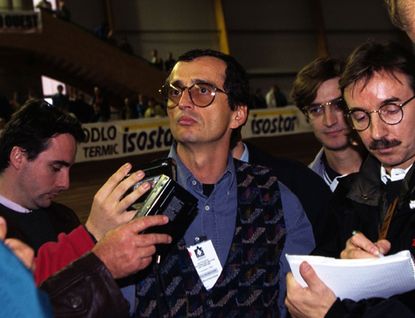 Dr Michele Ferrari fired back at the US Anti-Doping Agency (USADA) and his accusers following the Lance Armstrong doping case. The Italian doctor is serving a life-time ban and faces possible criminal charges in Italy for smuggling, selling and administering drugs, tax evasion and money laundering.
"My name appears 480 times in the USADA report, Armstrong's only 200 times. They make me out to be wicked and diabolic, like the magical mixture of olive oil and testosterone to put under the tongue. Or suggesting that EPO disappears quicker when taken intravenously rather than injecting it under the skin," the Ferrari told Italy's Quotidiano newspaper. "Like Lance would say, it's all bullshit."
The US agency banned him for life on July 10 after he refused to defend himself in the "US Postal Service Conspiracy." It said that he was the central figure behind Armstrong's doped performances and that he helped his team-mates dope as well.
Armstrong said he cut ties with the doctor following several court cases in Italy, but the agency showed he worked with him through 2010. It said, "USADA has found overwhelming proof that Dr. Michele Ferrari facilitated doping for numerous members of the U.S. Postal Service and Discovery Channel Cycling Teams." It has testimony from former clients George Hincapie, Tyler Hamilton, Floyd Landis, Christian Vande Velde, Tom Danielson and Levi Leipheimer and evidence gained from Italian investigations involving Filippo Simeoni, Volodymyr Bileka and Leonardo Bertagnolli.
"Throughout the USADA report there are doubts," Ferrari explained. "The accusations bounce around in Italy and permeate the judicial investigations are fed by suspicions. There's no circumstantial evidence. [It's based on] money, politics and old grudges."
Ferrari said he communicates often with Armstrong via e-mail, but only as friends and no longer for training. USADA showed he received around $1m or £62,000 from Armstrong through 1996 to 2006.
"Lance has spent more on lawyers. The rest is my job. It's been 20 years since I've been a team doctor; I don't even go to the races," he added. When asked if he is innocent, he said, "They've never found the smoking gun in hand. Or is it enough to have suspicions and searches, more or less random, to establish guilt?"
Benedetto Roberti, a public prosecutor from Padua, is closing his criminal case against Ferrari that is reported to have uncovered a €30m business. According to police reports obtained by Italy's La Gazzetta dello Sport newspaper, teams paid their riders under false image contracts, money that was specifically designated for Ferrari. It laundered back and fourth in Swiss banks via banks in Monaco before landing in Ferrari's accounts. Ferrari, according to the report, would offer training and legal advice, and of course, doping.
Roberto interrogated cyclist Leonardo Bertagnolli on May 18, 2011, and gave the testimony to USADA. Bertagnolli testified he used EPO and blood transfusions with Ferrari's help.
"That's what he says. Attention, though, the truth is very different," said Ferrari. "It's easy to say one or two people are the bad guys, but keep quiet about other aspects. In cycling, unlike football, you're pushed, you have to win right away regardless health and conditions. It's clear that there are those who look for shortcuts, and often it is the secondary ranks who try to make up for genetic injustices, throwing themselves into doping."
Thank you for reading 20 articles this month* Join now for unlimited access
Enjoy your first month for just £1 / $1 / €1
*Read 5 free articles per month without a subscription
Join now for unlimited access
Try first month for just £1 / $1 / €1