Leading cycling campaigners take part in Monday's Big Cycling Debate
The Big Cycling Debate aims to reveal each British political party's cycling plans, with leading figures from government and cycling organisations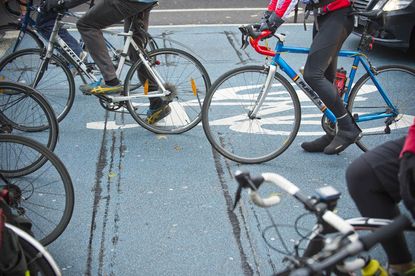 (Image credit: rupert fowler)
Leading figures campaigning for a dedicated cycling strategy from the Government will debate the issue with politicians next week.
The UK Cycling Alliance (UKCA) is holding the first ever cycling debate reflecting attitudes and wishes from across the country on Monday (March 2) in which it has coined The Big Cycling Debate.
The UKCA is made up of members of non-government and organisations working for and on behalf of cycling, including BC, CTC, Sustrans and London Cycling Campaign.
John Humphrys, the broadcaster who has a record for cycling campaigning, will be the compere and will be joined by transport minister Robert Goodwill (Conservatives), shadow transport minister Richard Burden (Labour) and the Liberal Democrat's Dr Julian Huppert.
The debate will seek to find out how the two current ruling political parties and opposition intend to ensure that the recent decision to insert a cycling clause in the updated Infrastructure Act will see a greater emphasis on cycling funding.
Chris Boardman is excited by the debate, keen to gauge how future governments will indeed create a long-term strategy for cycling as it is now legally required to do so.
He said: "With the election just around the corner it will be interesting to hear what plans the major political parties have.
"We have what is perhaps a once in a generation chance to change our country… I am anxious to hear which of the would-be leaders of this country have the vision to grasp this opportunity."
Journalist Kaya Burgess, who was the founder of The Times' Cities Fit for Cycling, said that the debate "is our chance to get policy-makers to The Times' HQ in London and grill them on exactly how they will honour this pledge after the election."
He added: "Britain leads the world in competitive cycling: it is time we did the same for commuter cycling too."
You can follow the event on Twitter using #cyclingdebate
Thank you for reading 5 articles this month* Join now for unlimited access
Enjoy your first month for just £1 / $1 / €1
*Read 5 free articles per month without a subscription
Join now for unlimited access
Try first month for just £1 / $1 / €1