MCCAULEY TAKES SEVERN BRIDGE, GOOD WEEKEND FOR STANNARD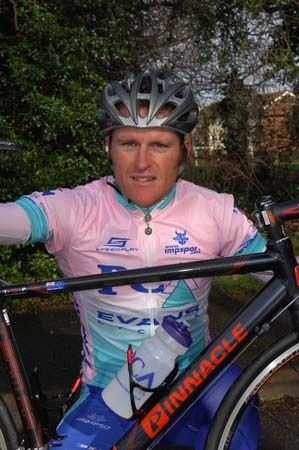 New Zealander Gordon McCauley, riding for the Plowman Craven-Evans Cycles RT, pulled off the first win since his return to UK competition in today?s Severn Bridge road race over a 105-kilometre course at Olveston, Gloucestershire.
McCauley, the Premier Calendar winner in 1999, outsprinted 2005 Premier champion Robin Sharman, leader of the winning KFS Special Vehicles team, after a third member of the leading break, local favourite Ben Luckwell (GWR Team), had punctured inside the last kilometre.
Luckwell trailed in 30 seconds down , with junior Luke Rowe (Recycling.co.uk) taking fourth place ahead of King of the Mountains title winner Oli Beckingsale (Giant RT).
Meanwhile, after his win in the Eddie Soens Memorial Handicap at Aintree on Saturday, Ian Stannard (100% ME) demonstrated his time trial speed when he was fastest in today?s Circuit of Pendle event.
Stannard covered a testing 28-mile course based on Whalley, Lancashire, in 1-01-52 to finish with just two seconds to spare over event record holder Gethin Butler (Preston Wheelers). But with his team not being affiliated to the CTT, Stannard was declared ineligible and Butler was given first prize.
Alex Dowsett, runner-up to team-mate Stannard in both the Clayton Velo Spring Classic and the Soens, again had to settle for second place ? this time to John McEvoy (Kinesis UK) ? in the Ribble Valley CRC road race at Elswick, Lancashire, today.
Chris Newton (Recycling.co.uk) completed a leading trio.
RESULTS
Severn Bridge RR (Olveston, Glos).- Gordon McCauley (Plowman Craven RT-Evans Cycles RT) 105km in 2-45-00; 2, R Sharman (KFS Special Vehicles) same time; 3, B. Luckwell (GWR Team) at 30sec.
Ribble Valley CRC (Elswick, Lancashire).- Johnny McEvoy (Kinesis UK) 82km in 2-01-50; 2, A. Dowsett (100% ME); 3, C. Newton (Recycling.co.uk) both same time; 4, P. Williams (Kinesis UK) at 7sec; 5, G. Briggs (Recycling.co.uk); 6, A. Bonser (Recycling.co.uk); 7, R. Kent (Science in Sport-Trek) all st; 8, S. Feeney (Chester RC) at 1-17; 9, M. Freeman (Alpha RC-Team Corley Cycles); 10, T. Diggle (Recycling.co.uk) both st.
Circuit of Pendle TT (Whalley, Lancs, 28 miles).-
Gethin Butler (Preston Wh)10154
P. O?Mahoney (Probikekit)10418
B. Buss (Team Swift-Allsports)10450
A. Robinson (Keswick Bikes)10639
P. Shallicker (Lancashire RC)10747
P. Greenwood (Clayton Velo)10829
S. Whitehead (North Lancs RC)10926
C. Pawson (Nelson Wh)10950
A. Hilton (Warrington RC)10954
Team.- North Lancashire RC (Stuart Whitehead, Duncan Park 1-12-23, Rob Dickinson 1-13-34) 3-35-23. Veterans.- Over-40.- Blair Buss. Over-50.- Pete Greenwood. Over-60.- Mikle Westmorland (Border City Wh) 1-15-05. Juniors.- Adam Pinder (Blackburn & Dist CTC) 1-10-11. Women.- Phoebe Potts (Border City Wh) 1-22-43.
Thank you for reading 5 articles this month* Join now for unlimited access
Enjoy your first month for just £1 / $1 / €1
*Read 5 free articles per month without a subscription
Join now for unlimited access
Try first month for just £1 / $1 / €1
Snowdon Sports is a long-established independent sports news agency, which supplies editorial to a range of media outlets - such as Cycling Weekly - as well as sports governing bodies. Snowdon Sports often covers results at Cycling Time Trials events in the UK and has long been a source of information and imagery to Cycling Weekly.