Meet the man who rode from London to Paris in just 12 hours (video)
Jonathan Parker cycled from London to Paris in just 12.5 hours, including a five-hour ferry journey across the Channel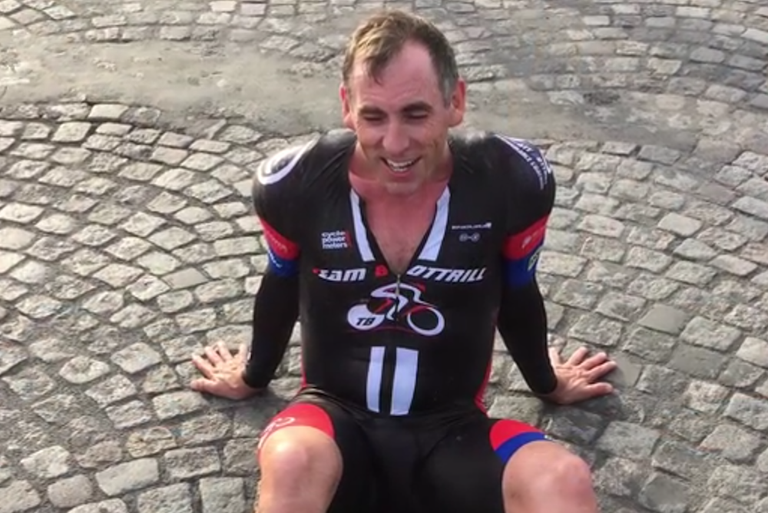 At the end of August, lawyer Jonathan Parker wrote his name in the record books by becoming the fastest person to cycle between London and Paris, completing the challenge in just 12-and-a-half hours.
The 42-year-old barrister from Herne Bay, Kent, set off from Greenwich on Sunday, August 28, and arrived at the Eiffel Tower just over half a day later.
The remarkable time included a five-hour ferry crossing from Newhaven to Dieppe, which came after 60 miles of the 170-mile journey.
Having reached France, Parker was then faced with a 110-mile time trial to the finish line. To reach the finish line at his target time, Parker had to ride at an average speed of 26mph for 170 miles - no mean feat.
Arriving in Paris in a time of 12 hours and 31 minutes, it is thought that Parker set a new world record and raised over £11,000 for Cyclists Fighting Cancer in the process.
>>> Donate to Jonathan Parker's charity ride here
The charity is one close to Parker's heart, having lost both parents to cancer. The challenge was made all the more remarkable by the fact that Parker broke all his limbs 10 years ago after plunging three floors through a roof. He still suffers pain when training in wet and cold conditions.
Mr Parker told the Standard: "With about 20 miles to go I didn't know if I was going to get there. I had to stop on the side of the road and compose myself.
"With 10 miles to go there was this sudden realisation that we were going to do this, that the charity was going to get the money. That was when the euphoria set in."