Milan-San Remo 2015 route confirmed
Milan-San Remo route to follow same course as 2014, without the 'unsafe' Pompeiana climb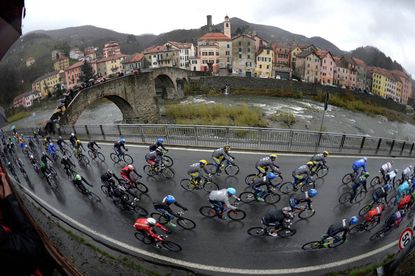 (Image credit: Watson)
The 2015 edition of Milan-San Remo, taking place on March 22, will cover the same coastal route in Northwest Italy as it did in 2014, with the Cipressa and Poggio but without the Pompeiana climb.
"As of today, the 2015 course of La Classicissima will be the same as 2014," race director, Mauro Vegni told Elleradio. "In the next weeks we will have time to confirm the details, but all the news that popped up regarding the changes is not true."
Organiser RCS Sport tried to include the five-kilometre Pompeiana between the Cipressa and the Poggio for 2014, but landslides and road conditions made the passage unsafe in the month leading up to the race.
Vegni explained after Norway's Alexander Kristoff (Katusha) sprinted to the 2014 win that he would include the Pompeiana in next year's edition.
IIf La Classicissima stays the same as 2014 then the riders will have to climb the Turchino, the Three Capi – Mele, Cervo, Berta – the Cipressa and the Poggio at 6.1 kilometres to race. It resembles the classic pre-2008 parcours without La Mànie which Vegni cut in 2014 to initially make way for the Pompeiana and because of road problems.
News leaked in September that RCS Sport would have to skip the Pompeiana climb because of continued landslides and road problems. This week, rain showers swept through the Liguria region, causing flash floods in Genoa and potentially made the problems worse for cycling's first Monument of the season.
Vegni said that he wanted to include Pompeiana in Milan-San Remo to encourage the participation of riders like Chris Froome (Sky) and Alberto Contador (Tinkoff-Saxo).
One slight modification from 2014 could be the finish straight. RCS Sport could be forced to re-route around the seaside finish on Italo Calvino that it used since 2007. Instead, Milan-San Remo could finish 50 metres further inland on Via Nino Bixio.
Road surface on Pompeiana climb cannot be repaired in time for Milan-San Remo, opening way for sprinters to contend
Mark Cavendish talks through the finale of Sunday's Milan-San Remo, run in cold temperatures and pouring rain
Britain's Ben Swift (Sky) places third behind Alexander Kristoff and Fabian Cancellara in Milan-San Remo 2014
Thank you for reading 20 articles this month* Join now for unlimited access
Enjoy your first month for just £1 / $1 / €1
*Read 5 free articles per month without a subscription
Join now for unlimited access
Try first month for just £1 / $1 / €1