Millar's Worlds TT ride was flawless, says Brailsford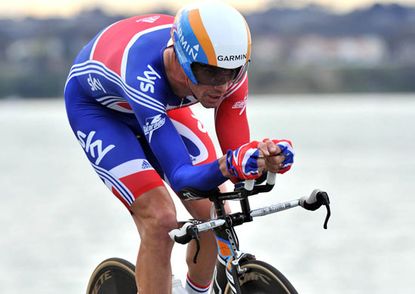 British Cycling's performance director David Brailsford awarded David Millar a gold medal despite a close loss to Swiss Fabian Cancellara today at the World Championship time trial in Geelong, Australia.
"There are two gold medals, there is one for Fabian and one for everyone else," Brailsford said. "He is quite far ahead of everyone else, and he has been for some time."
Millar set the best time on the first part of the course, going through the time check at 6.6 kilometres from the start six seconds faster than Cancellara. He pushed Cancellara all the way until the end, held the top spot and lost it by just over a minute once Cancellara finished.
"I got the information on the climb in the first lap that I was five seconds slower, then I heard 20 seconds down. Only when I got to the finish line did I know, I looked up to see the time and it was more than one minute," said Cancellara of Millar.
"I would not say Dave is a surprise. Though, he was not in the media, everyone was talking about me, Tony [Martin] and Richie [Porte]."
Cancellara's ride was not a surprise and it put him into the record books as the first cyclist to win four time trial titles. Still, Millar tried to explain ways he could have gone faster.
"I went a bit slow around a couple of corners, especially on the descent," he said. "My power was good, but I need to be faster and corner faster to beat Fabian."
Brailsford explained Millar's ride was flawless.
"I think that was the best ride of Dave's career," he said.
"He came out and got right on it from the off. I think he has been exemplary, in the last few days. In the run up, he has been the perfect team-mate, a good example to the young lads, fantastic with Mark [Cavendish] and he was out on the roadside cheering on Emma [Pooley] yesterday. And, they were all out cheering him on today."
They were also all waiting for Millar when he arrived by bike late and in the dark following the podium presentation and press conference. He had the silver medal around his neck, but a gold medal reception from his team.
Related links
Cancellara makes history with fourth world time trial crown
Pooley wins Worlds time trial
Phinney lives up to expectation, Dowsett suffers setback
World Championships 2010: Cycling Weekly's coverage index
David Millar: Rider Profile
Thank you for reading 20 articles this month* Join now for unlimited access
Enjoy your first month for just £1 / $1 / €1
*Read 5 free articles per month without a subscription
Join now for unlimited access
Try first month for just £1 / $1 / €1