Monty celebrates his 80th in style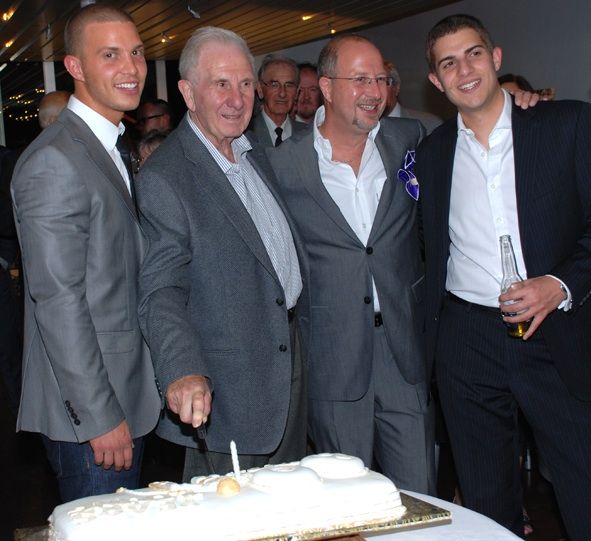 Over 150 guests, including cycling stars from the past and present, made sure Monty Young's 80th birthday party went with a swing in London recently.
Monty, founder of Condor Cycles in 1948, celebrated with a reception on the roof terrace of Smith's Restaurant opposite Smithfield Market.
A display of photographs and hand-built frames took up one part of the room which opened on to a terrace where St Pauls Cathedral could be seen dominating the skyline.
Olympic triple medallist Bradley Wiggins was the most decorated rider there, fresh from the Tour of Britain which finished in London that same afternoon.
Of course, the Rapha - Condor team led by manager John Herety were there too, plus past stars Vin Denson, Colin Lewis, Joe Waugh, Bob Downs, Martyn Roach, and many more.
Other guests included TV commentators Phil Liggett and David Duffield, plus many officials, and cycling trade representatives.
The guest list spanned six decades of Monty's cycling career, a reflection and tribute to his contribution and influence and friends made in the sport. In the beginning he was GB team mechanic, working on the Tour of Britain Milk Race and Peace Race.
When he founded Condor's in 1948, the firm quickly established itself as a sponsors of pro teams, which continues to this day. Always at the cutting edge of the sport, Condor Cycles, now run by Grant, Monty's son, continues as maker of fine bespoke cycles, catering not only to the racing game, but leisure and commuter too.
"Everything about this evening has been special," said Monty. "Great to see so many people I have known."
He pointed out one framed picture of himself with the GB team, from the many on display.
"That photo of me is from the 1953 Tour of Britain, when I first started work on races. Some of these pictures I haven't seen in years."
Helping Monty cut the splendid birthday cake are his grandsons, Josh, left, and Seb (far right), and son Grant.
Both grandsons have joined Condor. Seb is a chartered accountant and handles Condor finances and Josh is the warehouse manager and handles the purchasing of accessories. That means there are now 3 generations at Condor and it remains a family business.