Movistar use Endura skinsuits with a watt saving number pocket
Movistar uses a cutting edge Endura skinsuit, with a transparent number pocket, to gain an aero advantage at the Tour de San Luis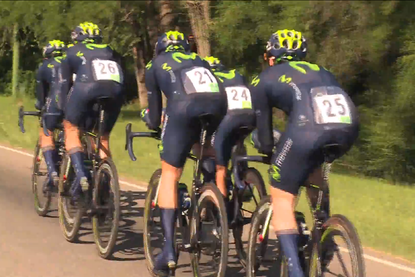 In 2015 we saw a couple of WorldTour teams using skinsuits with integrated transparent number pockets - Lotto Jumbo NL in the Tour de France and then Movistar in the Vuelta.
Some may have thought this was a short term fad, but with Movistar wearing its new top of the range skinsuit - with the number pockets - in the Tour de San Luis team time trial it looks like they are here to stay.
Skinsuits
The practicalities of getting kit to the Tour de San Luis resulted in teams using a wide variety of kit. This included road bikes with/without bolt-on bars and helmets ranging from long tailed time trial helmets to standard road helmets which favour ventilation over aerodynamics.
>>> Time trial helmet vs road helmet: which is faster? (video)
Transporting skinsuits was obviously far easier than time trial bikes etc. As a result, despite not having the most aerodynamic bikes or helmets, all the teams wore skinsuits to help the riders slice through the air.
However, Quintana and co were the only ones to use the innovative transparent pockets - which may have helped them to finish only eight seconds behind Etixx Quickstep.
Jim McFarlane of Endura told Cycling Weekly that the Movistar skinsuits are largely the same as that seen at the Vuelta: "It is effectively the same skinsuit as used by Movistar at the Vuelta, with the textured surface and the number pocket."
Movistar won't be the only professional cycling team using Endura's latest technology as this Scottish company is about to supply the Cervelo- Bigla women's team with similar suits.
If you have been a regular at domestic time trial events you are likely to have noticed riders wearing skinsuits with a transparent pocket from British company Nopinz.
>>> National 10-mile TT is won on a bike costing £1,000
McFarlane confirmed that at the moment the Endura suits with the pockets are only being used by the pro teams it supplies, but this could change: "In the next few months we'll decide whether to make it available to the public."
Skinsuit vs top and shorts
Aero benefits
Using a transparent pocket to stow your number has several claimed benefits.
The first may not be a concern for pro teams, but not having to use pins to fix your number should improve the longevity of the skinsuit.
>>> How much faster can an integrated number pocket make you? (video)
Secondly, the pocket will ensure the number is consistently in the optimum position - not too low or too high up the rider's back - and keep it flush to the rider's back which should mean air flows smoothly over the rider rather than causing drag.
Thank you for reading 20 articles this month* Join now for unlimited access
Enjoy your first month for just £1 / $1 / €1
*Read 5 free articles per month without a subscription
Join now for unlimited access
Try first month for just £1 / $1 / €1