NICOLE COOKE LOSES WOMEN'S WORLD CUP IN LAST RACE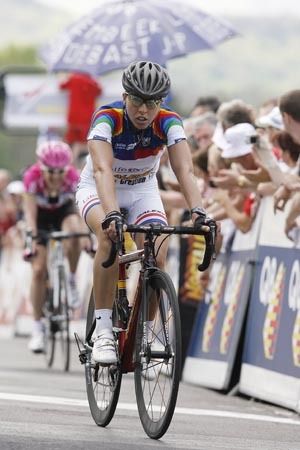 Nicole Cooke (Raleigh-Lifeforce) lost overall victory in the season-long women?s World Cup in the final race in Nurnberger, Germany, on Sunday.
Cooke had lead the World Cup all season after winning the first race in Australia and had an 80 point lead ahead of rival Marianne Vos of Holland but with double the usual points available in the last race, 150 to the winner instead of 75, a surprise in the last race was still mathematically possible.
20 year-old Vos needed to win or finish second with Cooke out of the points and that is exactly what happened at the end of the race. Vos used the sprint that won her the world title last year in Salzburg to beat T-Mobile's Ina Teutenberg, with Nürnberger Versicherung's Regina Schleicher third. Cooke was only 34th in the sprint and so lost the World Cup. Vos finished with a total of 403 points, while Cooke totalled 337 points.
The only consolation for the 23 year-old Welsh woman was that her Raleigh team won the World Cup team competition for the second consecutive season. However, that is surely not going to satisfy Cooke, who will be out for revenge in the World Championships on September 29 in Stuttgart, Germany.