Orbea celebrates the joy of Six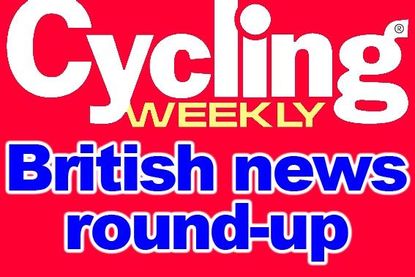 ORBEA CELEBRATES THE JOY OF SIX
The Orbea For Goodness Shakes team celebrated its first ever win at the weekend thanks to Marcel Six in the Wally Gimber Trophy.
The 24-year-old Briton, had a semi-professional contract with the Kelme team, but was forced to take a year out after a collision with a car.
Six won an uphill sprint to take the win from a four-man break which formed in the latter stages of the 75-mile race in Kent, including team-mate Andy Lyons, Wouter Sybrandy and Roy Chamberlain.
Orbea team manager James Whatling was delighted with young charge Six's performance: "Marcel is a class act. He knows how to win races because he has plenty of experience, but he's still young enough to show a clean pair of heels."
Despite the disappointment of missing out on a Tour Series slot this year, the Orbea team proved that it will still be a force to be reckoned with on the road this year.
51st Wally Gimber results:
1. Marcel Six (Orbea - For Goodness Shakes)
2. Roy Chamberlain (Corley Cycles/Cervelo)
3. Wouter Sybrandy (Sigma Sport/Specialized)
4. Andy Lyons (Orbea/For Goodness Shakes)
5. Justin Hoy (Felt/Colbornes)
6. Gary Dodd (Sigma Sport/Specialized)
7. Rudy Depecter (Team Nord Pas de Calais)
8. Kevin Knox (Dulwich Paragon CC)
9. Gareth Montgomery (Sigma Sport/Specialized)
10. Daniel Sanoni (Pearsons Cycles)
MOSES COMES UP ROSES IN JUNIOR ROAD RACE

Glendene CC rider Tom Moses took first blood in the National Junior Series with a solo win in Sunday's Cadence Junior Road Race.
"It all split up over the race, and I made it into the lead group of sixteen with ten miles to go," he explained.
With three miles left, Moses followed an attack from Sam Harrison, joined by Adam Yates (Maxgear RT) and Lewis Balyckyi (Team Wallis).
With Harrison falling off the pace, the 18-year-old former junior cyclo-cross champion then struck out on his own, keeping the two chasers at bay to claim victory.
"I'm pretty happy with that. Adam and Lewis were messing about, they didn't seem that strong. I knew that if I dragged them to a sprint with me, they'd probably have beaten me," he explained.
Moses was effusive in praise of his Glendene team-mates. "A lot of it was due to teamwork; we had someone in every break, or we were chasing hard. It was a real tough man's course. On the run-in to the finish, Conor [Dunne] was covering all the moves for me, which really helped."
In the coming weeks, Moses will be doing some junior races in Belgium with his Glendene team-mates.
ROWE SIXTEENTH IN ITALY
After leading the squad to eighth at last week's season debut, Luke Rowe was near the head of affairs on Sunday. The young Welshman took sixteenth in yesterday's GP San Giuseppe.
Mark Christian was the other British finisher, in 68th position.
Decided in a big bunch sprint, victory went to Zalf rider Enrico Battaglin.


BATE AIMS TO SMASH ROUND THE WORLD RECORD

Since Mark Beaumont hit the headlines in February 2008 by breaking the round the world cycling record, hardy endurance riders have been lining up to set a lower standard. James Bowthorpe and current record holder Julian Sayarer have both since bettered the mark, which now stands at 165 days.
Thai-based endurance cyclist Alan Bate is now taking up the challenge. Originally planning to do the 18,000-mile challenge in 150 days, he has upped the ante by aiming for an outwardly-ridiculous 99 days.
Mad about cycling and Thailand, the 44-year-old has even been dedicated his attempt to his hero, the King of Thailand.
He leaves Bangkok at midnight on March 31, traveling south through Thailand, Malaysia and Singapore. After crossing Australia and New Zealand, he then plans to ride from San Francisco to New York.
From there, Bate journeys to Uruguay and will ride to Recife, before traversing Europe and returning to Bangkok.
For more information, visit www.worldcyclingrecord.com
FELT COLBORNES TEAM LAUNCHES WITH HIGH HOPES

Saddleback has teamed up with car dealership Colbornes to launch the new domestic Felt Colbornes racing team.
The previously existing five-man Felt Bicycles was one of the most competitive small domestic teams on the circuit last year, with the five forming the mainstay of the new outfit.
"Having seen the team grow over the last couple of seasons achieving some great results along the way it seemed appropriate to increase our investment in the Felt Colbornes team and take it to the next level," explained Andy Wigmore, director of Saddbleback.
The team has taken on seven new riders to bring the total to 12 with the emphasis on local races but will also have some presence in the Premier Calendar, thanks to the experience of riders like Justin Hoy and James Taylor.
Full line-up for 2010:
Justin Hoy, John Wager, Tim Elverson, Lee Smith, Tom Smith, Ian Legg, Duncan Jamieson, Pete Wager, Richard Mardle, James Taylor, David Curtis-Whitfield, Gary Clark


The 2010 Felt Colbornes set-up
FUNDRACING FOR CHARITY
In the summer of 2009, a group of football-playing friends decided to do something different, something that would be harder than anything they had done before and something none of them had any experience of: they chose cycling.
The group of complete beginners decided to cycle the circumference of Wales, a total distance of some 600 miles over six days.
The event, which takes place from April 27 and May 2 of this year, will be run in for the benefit of charity and the group of friends has established an organisation called 'The Fundracers' soon to become a registered charity thanks to the amount of funding they have already received.
See www.thefundracers.com for more details.
Thank you for reading 20 articles this month* Join now for unlimited access
Enjoy your first month for just £1 / $1 / €1
*Read 5 free articles per month without a subscription
Join now for unlimited access
Try first month for just £1 / $1 / €1