Pauline Ferrand-Prevot interview
Pauline Ferrand-Prevot may only be 22 but the young woman from Reims in eastern France is a name we'll be seeing a lot more of. Sooner rather than later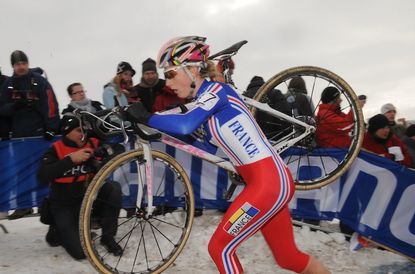 (Image credit: Graham Watson)
Pauline Ferrand-Prevot might not be a name familiar to too many yet, but it looks like a sure-fire certainty that the 22-year-old French woman is going to make a big name for herself in the next couple of years.
Like Marianne Vos, her team mate at Liv Rabobank, Ferrand-Prevot has been winning world and national titles in cyclo-cross, mountain bike and road (and time trial) and is planning to double up at the Rio Olympics, riding both the mountain bike XC race as well as the road race.
This year she's already won the Fleche Wallonne and, more recently, two stages of the Basque stage race, the Emakumeen Euskal Bira, as well as the overall classification. In between these road 'blocks' she went back to winning off-road. Not too shabby.
"When Marianne said to me at the Fleche Wallonne that she would ride for me because I was going well, I had to ask her if she was sure, because I really didn't want to disappoint her or the team. But she insisted and encouraged me, she said 'Of course, have some belief, I believe in you, of course you can do it,' and Marianne rode for me throughout the whole race.
"Basically I stayed in her wheel for more or less the whole race and we followed all the attacks up to the point where she led me to the foot of the Mur of Huy climb to the line. I even asked Marianne where the best place to start the sprint was and the main thing she said was 'Just make sure you don't go too early, wait till you can see the finish banner' so I waited and…". And won.
Even in April however, 'PFP' had her eyes fixed on doubling up on the World championships on both road and mountain bike.
"I took time off the road in May to race in the World Cup cross-country races in the Czech Republic and Germany to see how it felt to be racing off-road again before going back to the road in Spain."
It turns out she was going well. Although she started at the back of the grid in the Czech Republic (it was her first World Cup race of the season), she fought through the field and won. PFP followed that up with a win in Germany and then, in her third mtb race of the year, won the European Under-23 cross-country title at Saint Wendel in Switzerland in early June.
It almost seems rude to ask, but isn't there a point at which she would have to choose between road and mountain bike racing?
"I don't know yet," laughed Ferrand-Prevot, "for the moment I really enjoy both and it's something I think that keeps me strong and enjoying going out training. In May all I did was mountain biking, then June it was back to the road. So, do I need to make a choice between them? No? Do I need to choose how I approach my training and racing? Yes."
However, even further down the road, so to speak, Ferrand-Prevot has it in her head to ride both the XC mountain bike and road races in Rio.
"I'm going to use this year to see how that mix of racing on and off road as well as the training works, to see if it really is feasible to do both disciplines at the Rio Games. If I don't think it's possible then I'm capable of being honest with myself and not going down there just to take part, just to do both for the sake of it."
In previous interviews, Ferrand-Prevot has suggested that her career may take her towards the road rather than mountain biking but, for the moment, it appears that she is more than capable of getting results on both.
You rather imagine there are some specialist mountain bikers who wish she'd hit the road sooner rather than later.
Thank you for reading 20 articles this month* Join now for unlimited access
Enjoy your first month for just £1 / $1 / €1
*Read 5 free articles per month without a subscription
Join now for unlimited access
Try first month for just £1 / $1 / €1