Quick-Step rider Petr Vakoč able to cycle again after collision by 'hanging bike from the ceiling'
Several broken vertebrae required surgery after a truck reportedly struck Vakoč and team-mate Laurens De Plus from behind when training with Bob Jungels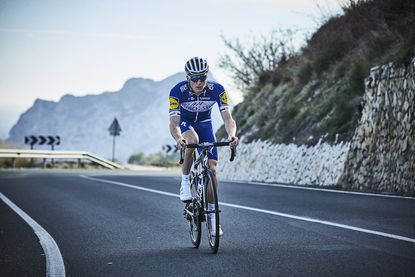 Czech cyclist Petr Vakoč has been able to begin a rehabilitation programme following serious injuries he sustained in a collision on a training ride in South Africa.
Vakoč was left with several broken vertebrae, requiring spinal surgery after the accident which happened in January when he was riding with Belgian Laurens De Plus and Bob Jungels in South Africa.
He's now able to pedal - though he's had to get creative to limit stress on his back.
"I have just pedaled [sic] for the first time at my home, after hanging a bike from my ceiling and mounting it to a Tacx trainer. I am still not allowed to pedal seated but I am so happy I can start moving the legs and work to get back to the pack," he said in a statement released by the team.
Quick-Step Floors also tweeted a video of his early rehabilitation:
The 25-year-old commented: "I can't tell you how great it is to be back home after such a long time in the hospital."
"Of course, it is tough being sidelined with a view to a long rehabilitation period when all you want is to ride your bike, but I am feeling lucky knowing I will come back again."
"Since the accident, I have followed the races of my team-mates and enjoyed their victories, so now I am even more eager and motivated to be back and do some great cycling races, thus giving you all a show as thanks for all the support and recovery messages I have received since the accident, which have meant a lot to me," said Vakoč.
The team says that if everything stays on track, he could make a return to racing "before the end of the season."
Jungles was unharmed in the collision, later releasing in a plea for road users to look out for each other.
Le Plus fractured his pelvis and sacrum in the accident, a huge setback for the 22-year-old rider who was returning to fitness following a crash at Il Lombardia in October 2017, where he'd picked up a fracture in his right knee.
He was released from hospital at the end of January, and commented in a blog on the team site: "This kind of accident is something you don't wish for anybody to experience but the good thing about it is that I know I am capable of coming back, mentally and physically.
"That is something I take with me into the road to recovery I have ahead of me. I know I will come back stronger than before."
Thank you for reading 20 articles this month* Join now for unlimited access
Enjoy your first month for just £1 / $1 / €1
*Read 5 free articles per month without a subscription
Join now for unlimited access
Try first month for just £1 / $1 / €1