Bob Jungels posts emotional video appeal after Quick-Step Floors training crash (video)
Quick-Step Floors rider Bob Jungels talks about the horrific incident last week, when a truck collided with team-mates Petr Vakoc and Laurens De Plus in South Africa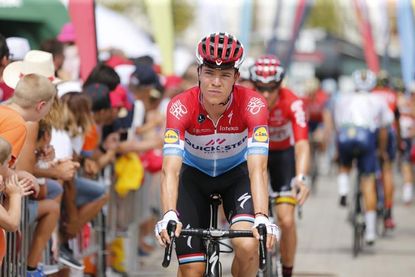 (Image credit: Yuzuru Sunada)
Bob Jungels (Quick-Step Floors) urges everyone on the road to relax and work with each other after a truck hit his team-mates while training in South Africa on Thursday.
Only Jungels escaped the impact. Czech Petr Vakoc and Belgian Laurens De Plus both were taken to the hospital. Vakoc underwent surgery on broken vertebrae and must stay for 10 more days in South Africa before returning home to Europe.
"It's very unfortunate that it always has to come to such a situation to wake up," Luxemburger Bob Jungels said in a YouTube video.
"I think that there are a lot of things that are being done about security for cyclists on the road. We are definitely the most vulnerable subjects on the road compared to trucks, cars or even a motorbike. We don't have a chassis around us that protects us.
"We should all consider that, if it is worth the one or two minutes that you lose maybe passing us, then maybe getting into a situation like where were two days ago."
https://www.youtube.com/watch?v=8uTsnKj5LcY
The three were training on Thursday afternoon when a truck hit them from behind. Jungels explained he heard a loud noise and then saw his team-mates on the ground, thinking that they must have been hit by the left corner of the truck or its side mirror.
With the help from a woman at the side of the road, they called an ambulance. De Plus escaped major injuries.
"I wanted to make a video about what happened, but I want to say that coming to South Africa was absolutely the right decision, it is a wonderful country and people are very kind, drivers are very respectful," Jungels said.
"From one moment to another, you can have a laugh with your buddy and the next, you are running around screaming, you don't know what to do. Having him in your arms and you don't know if he's going to be able to cycling again, walk again, or whatever. In the end, finally everything turned out quite positive."
>>> Quick-Step riders left injured after collision with truck during South African training camp
Jungels wants cyclists and motorists to be aware of the dangers on the road. He highlighted his incident, which recalled several others like the one that involved John Degenkolb and his former Giant-Alpecin team-mates in 2016.
"I'm not saying that we cyclists do everything right. Often we use too much of the road, we don't respect the rules also, that's fair enough to say. Just the message I want to give here is that I really hope that no one ever has to experience what I did two days ago with my two team-mates.
"I really strongly advise sharing the road together and maybe making a sign if something is wrong, I don't know, but just don't do anything that could provoke a situation like we had before."
Chris Froome was hit by a car training near his Monaco base last summer. He has spent his off-season building up the miles at his home in South Africa. Several other cyclists, including Yates twins Adam and Simon, also train in South Africa.
Thank you for reading 20 articles this month* Join now for unlimited access
Enjoy your first month for just £1 / $1 / €1
*Read 5 free articles per month without a subscription
Join now for unlimited access
Try first month for just £1 / $1 / €1