Riders to cycle lap of Australian national road race course in memory of Jason Lowndes
Riders, team staff and friends will cycle a lap of the Australian national road race course on Thursday morning in memory of Jason Lowndes, who tragically died in December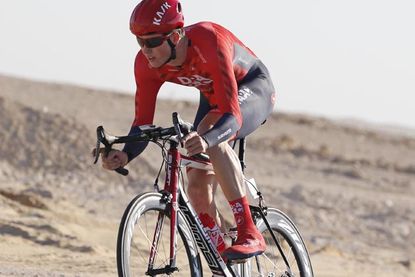 (Image credit: Yuzuru Sunada)
A lap of the Australian national road race course will be completed by riders, team staff and friends in memory of Jason Lowndes, the Australian cyclist who died after being hit by a car in December.
Professional cyclist and fellow Australian Brenton Jones posted on his Facebook page that the memorial lap would take place on the road race course in Buninyong "in memory of the big friendly giant with the brightest smile".
"With the blessing of Jason's family, we are doing a 'Lap for Lowndesy' around the Nationals course in Buninyong, in memory of the big friendly giant with the brightest smile, who touched the hearts of so many of us," wrote Jones.
"The cycling community is incredibly close knit despite being spread all around the world. Considering there will be so many riders, team staff, family and friends gathering in Ballarat for the National Championships, we would love to see as many of Jason's friends unite for a 'Lap for Lowndesy'.
>>> Tributes paid to Jason Lowndes, 1994-2017
"We will meet in De Soza Park, Buninyong, adjacent to the road race start/finish line at 8:30am sharp on Thursday, 4th January 2018.
"It will be a chance for everyone to honour his life, which was filled with so many memorable achievements and times we all shared, on the bike doing what he loved!
"Following this, we will all be heading to the nearest café to enjoy a brew for our mate. I know he'd love to see us all out there remembering what an incredible young man he was! Look forward to seeing everyone there."
Lowdnes died after he was hit from behind by a car while out on a training ride near his home in Victoria, Australia, on Friday December 22.
The 23-year-old was taken to hospital by helicopter but later died of his injuries. He had signed to the British-based JLT Condor team for the 2018 season.
Thank you for reading 20 articles this month* Join now for unlimited access
Enjoy your first month for just £1 / $1 / €1
*Read 5 free articles per month without a subscription
Join now for unlimited access
Try first month for just £1 / $1 / €1