Romain Bardet apologises to cycling fans after Mondory EPO positive
AG2R-La Mondiale general manager Vincent Lavenu also condemns Lloyd Mondory's actions, insisting he didn't believe the rider's tearful explanation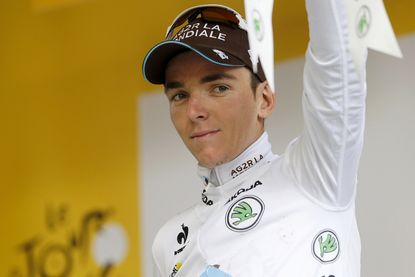 (Image credit: Watson)
AG2R-La Mondiale rider Romain Bardet apologised to cycling fans after his teammate Lloyd Mondory was suspended for failing a drugs test, saying the incident jeopardises efforts to make the sport more credible.
Mondory was suspended by the UCI pending an investigation after he tested positive for EPO in an out-of-competition test on February 17.
Bardet, 24, had a breakthrough year with the French team in 2014, finishing sixth in the Tour de France, and said it is unfair for the whole squad to be tainted by the actions of individuals.
"I have no words strong enough to condemn this type of conduct that jeopardises all efforts by our team and our bodies to lend credibility to our practice," Bardet wrote on his Facebook page.
"It is a new big blow for the majority of the squad that should not have to answer for the mistakes of a few individuals.
"I am deeply sorry for you, lovers of cycling," he added. "We must now, with solidarity further strengthened, work to uphold our vision of cycling. That of a healthy sport, exemplary and inspiring especially for the younger generation."
Mondory recently signed a contract extension with the French team until the end of the 2016 season, but now could face a four-year ban under the new WADA code.
AG2R general manager Vincent Lavenu says he does not believe the explanation Mondory gave him after the news broke on Monday and encourages the rider to tell the truth.
"I feel a sense of betrayal, he's been with us for 12 years and now the team's reputation will be tarnished," Lavenu said.
"I cannot handle this, there has been too much work and too much investment. My life is cycling and when the International Cycling Union contact us, it is always shameful (to receive this kind of information)."
"(Mondory) was in tears but his explanation doesn't convince me. I hope he has the courage to tell the truth and not hide behind false excuses."
Thank you for reading 20 articles this month* Join now for unlimited access
Enjoy your first month for just £1 / $1 / €1
*Read 5 free articles per month without a subscription
Join now for unlimited access
Try first month for just £1 / $1 / €1