Schumacher's appeal against doping ban dismissed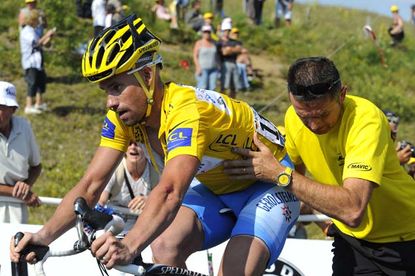 German cyclist Stefan Schmacher has had his doping ban appeal dismissed by the Court of Arbitration in Sport.
CAS ruled on Monday in Lausanne, Switzerland, that Schumacher's two-year ban from professional cycling should stand, although it has brought forward the ban's start date from January 22, 2009, to August 28, 2008.
A CAS statement issued on Monday said: "The CAS has dismissed the appeal filed by the German cyclist Stefan Schumacher against the decision of the International Cycling Union (UCI) to recognise the two-year suspension imposed by the French Anti-Doping Agency (AFLD) and to extend it worldwide. However, the CAS has fixed the commencement date of the suspension at 28 August 2008, instead of 22 January 2009."
Schumacher tested positive for banned blood boosting drug CERA, a form of EPO, at the Tour de France in July 2008 whilst riding for the now defunct Gerolsteiner team. He won both time trial stages and had a spell in the yellow leader's jersey during the race.
Schumacher subsequently failed a test for the same substance at the Beijing Olympic Games in August 2008.
Previously, Schumacher had tested positive positive for amphetamine in 2004 but was later cleared by the German Cycling Federation.
RELATED LINKS
Schumacher the second Olympic cycling positive
Stefan Schumacher tests positive at the Tour de France
German Federation confirms Schumacher positiveCERA: New scourge of the peloton
Thank you for reading 20 articles this month* Join now for unlimited access
Enjoy your first month for just £1 / $1 / €1
*Read 5 free articles per month without a subscription
Join now for unlimited access
Try first month for just £1 / $1 / €1