SIMONI, CASPER AND POPOVYCH FOR REVOLUTION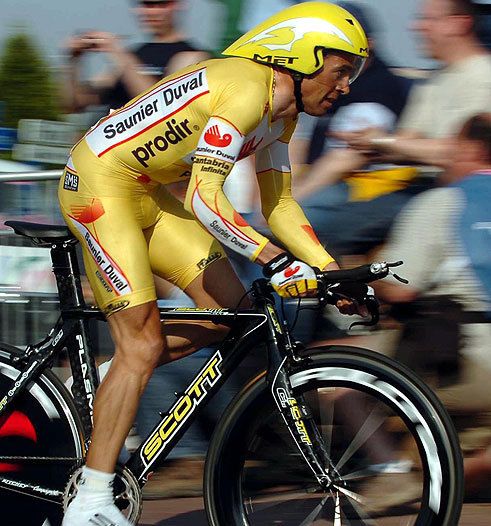 Italian cycling star and double Giro d?Italia winner Gilberto Simoni, Discovery Channel's Yaroslav Popovych and sprint ace Jimmy Casper (Cofidis) are latest ProTour stars confirmed for the next round of Revolution at the Manchester Velodrome.
Simoni finished his road season early this year to ride competitively in mountain bike; so competitively that he was recently crowned Italian Marathon Mountain Bike Champion. The Italian star will now switch discipline again and make the trip to Manchester on November 18 to join Saunier Duval team-mate David Millar on the track.
Millar has only recently honed his abilities on the track taking the National Pursuit title and he agrees that the road riders will give the track specialists some good competition, ?Jimmy has some good experience on the track? he said. ?I know him well from my time at Cofidis. He comes from the Picardie region of France which is the heartland of French track racing, in fact to tell you the truth Jimmy looks more like a track rider than a road rider. I think he?ll be a bit nervous, but knowing Jimmy that will actually benefit him.?
?Popovych I don?t know so well, but I respect his talent a great deal,? continued Millar. ?He has been hailed as the next big thing since he arrived in Italy as a teenager and deservedly so. It?s true that he is an unknown quantity on the track but lets not forget he comes from the Russian school of cycling; this normally means as an adolescent riding around in circles in very cold velodromes, so I?m think he?ll be OK! It?s going to be a fun night, but also a little scary at first for us more used to brakes and freewheels!?
The road pros will face tough opposition from the British track specialists with experienced riders such as Tony Gibb and James Taylor and junior stars such as Junior Points Champion Peter Kennaugh likely to push the pace in front of the home crowd.
Tickets for Revolution on November 18 can be purchased at www.cyclingrevolution.com or by calling 07005 942 579.