SMITHFIELD NOCTURNE ELITE RIDERS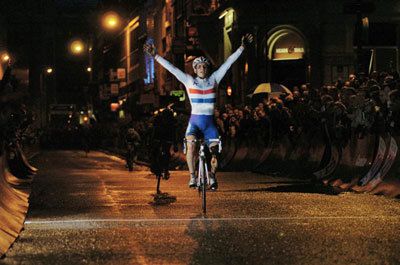 As we reported last month, Ed Clancy and Geraint Thomas are the latest in a long line of elite riders to join in the action at this year's Smithfield Nocturne.
Clancy and Thomas join names such as Dean Downing, Rob Hayles, Chris Newton and Tony Gibb in the floodlit, night-time criterium based around the historic London market of Smithfield on Saturday, June 7 (support events start from 5pm).
"It will be great to return to London as it?s not often we get the opportunity to race there,? Thomas said. "The Nocturne is obviously a different prospect to the Tour de France but I?m really looking forward to it. I?ve just come off the back of the Giro so I?m up for mixing it up in a crit race."
"I was pleased with my form in the Giro, especially in the final time trial," Thomas continued. "It bodes well for my preparation towards the Olympics. I?ve had some rest this week and have a free schedule so it was a perfect opportunity to race against some of my GB team mates and enjoy some action on the streets of London."
Full race start list and details below.
Smithfield Nocturne Elite Criterium
Date: 7th June 2008
Location: Smithfield Market, Central London
Start time: approx 8.30pm
Rider Category: Elite, 1st, 2nd
1.Geraint ThomasBarloworld
2.Ed ClancyLandbouwkrediet - Colnago
3.Dale ApplebyRapha Condor
4.Graham BriggsRapha Condor
5.Rhys LloydRapha Condor
6.Rob PartridgeRapha Condor
7.Simon HoltRapha Condor
8.Dean DowningRapha Condor
9.Kristian HouseRapha Condor
10Chris NewtonRapha Condor
11Rob HaylesTeam Halfords
12Tom SouthamTeam Halfords
13Tony GibbPlowman Cravan
14Simon GaywoodPlowman Cravan
15James MillardPlowman Cravan
16Tom BarrasPlowman Cravan
17Evan OliphantPlowman Cravan
18Neil ColemanPlowman Cravan
19Simon RichardsonPlowman Cravan
20Alex HighamPlowman Cravan
21Darren BarclayArctic Premier Racing Team
22Alister TullettArctic Premier Racing Team
23Jody CrawforthArctic Premier Racing Team
24Matt HolmesArctic Premier Racing Team
25David LawArctic Premier Racing Team
26Steve NunnArctic Premier Racing Team
27Jos Van VeldovenRollapaluza
28Paul MillTeam Edwardes
29Jon MozleyPearl Izumi-planet X-High 5
30Matt TalbotGlendene CC
31Liam HolohanPearl Izumi-Planet X-High 5
32Jersosen JanssenPearl Izumi-Planet X-High 5
33Stephen AdamsPearl Izumi-Planet X-High 5
34Matthew JonesPearl Izumi-Planet X-High 5
35Raphael DeinhartPearl Izumi-Planet X-High 5
36Andy TinsleyPearl Izumi-Planet X-High 5
37Tom SmithAWcycles.co.uk
38Marcin BialoblockiSports Beans-Willer
39Marcus PerrySports Beans-Willier
40Andrew WilliamsCwmcarn Paragon CC
41Adam DugglebyShorter Rochford RT
42Grant BaytonSports Beans-Willier
43Martin FreemanTeam Corley Cycles
44Karl FreemanTeam Corley Cycles
45Paul DelahuntyLondon Dynamo
46Martin GarrattLondon Dynamo
47Ben WhiteBike n Run London
48Warrick SpenceCyclefit-Serotta
49Daniel RuddCitiHub
50Andrew FennDolan RT
51Mark ChristianTeam Isle of Man
52George AtkinsPearl Izumi-Planet X-High 5
53Dan DuguidSigma Sport RT
54Wouter SybrandySigma Sport RT
55Alex WiseSigma Sport RT
National Elite Circuit Race SeriesPoints will be awarded for the first 20 places in each single day circuit race as follows:
60, 52, 45, 40, 35, 31, 27, 23, 20, 17, 15, 13, 11, 9, 7, 6, 5, 3, 2, 1.
Points will be awarded for the first four across the line on two pre-designated sprint laps in each closed road circuit race round: 5, 3, 2, 1.
The overall competition will be won by the rider who gains the highest number of points gained (a maximum of 10 races to count - the number of counting rides available will be reduced if the number of participating events reduces).
The highest placed under-23 rider in the final overall standings will be declared the U23 Circuit Race Series Champion.
RELATED LINKS
Thomas and Clancy to ride Nocturne
Nocturne expands for 2008
Battle of Brits at 2008 Smithfield Nocturne
Bike events top Visit London awards
EXTERNAL LINKS
Smithfield Nocturne official website: www.smithfieldnocturne.com.
Nocturne Series: www.nocturneseries.com.
Thank you for reading 20 articles this month* Join now for unlimited access
Enjoy your first month for just £1 / $1 / €1
*Read 5 free articles per month without a subscription
Join now for unlimited access
Try first month for just £1 / $1 / €1