Specialized launches Peter Sagan Collection at Tour of Flanders
Specialized launches Peter Sagan-branded Tarmac and Roubaix bikes, Diverge frameset, plus helmet and shoes - Photos by BrakeThrough Media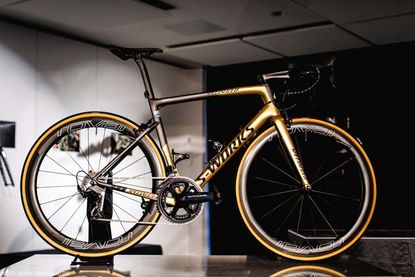 (Image credit: BrakeThrough Media)
Specialized officially launched its new Sagan Collection on the eve of the Tour of Flanders, designed in conjunction with three-time world champion Peter Sagan.
The Sagan Collection comprises bikes, a frameset, shoes and a helmet.
All are finished in glittering gold and/or silver paint finish and with Sagan's name emblazoned on them. Specialized says that its designers worked with Sagan to "create an artistic representation of his distinctive style".
Sagan himself will use one of the Sagan Collection Tarmac SL6 bike during the Tour of Flanders on Sunday, and it was this bike that attracted the most attention at launch.
In addition, there is a Sagan S-Works Roubaix (US pricing $11,000), Roubaix Comp ($3,350), S-Works Diverge frameset ($4,200), S-Works 7 shoes ($425) and new S-Works Evade helmet ($275).
The S-Works Roubaix bike – which Sagan will use during Paris-Roubaix – comes equipped with top-end Shimano Dura-Ace Di2 drivetrain and Roval CLX 32 wheels.
Specialized were keen that there was a bike accessible to a wide range of customers rather than the range-topping S-Works models, and the Roubaix Comp fits the bill.
The Roubaix Comp comes with Roval SLX 24 Disc wheels and Shimano Ultegra 8000 components.
For those that prefer excursions off-road, there's a silver –rather than gold – Diverge frameset that can be made up into a gravel/do-anything bike that neatly fits into Sagan's history in off-road racing.
The Sagan S-Works shoes are very striking, with gloss gold heel, matte gold closure dials and matte black upper.
Whereas other items in the Sagan Collection major on gold, the Evade helmet by contrast is almost all matte black, with just a touch of gold and with gold chin straps.
No details of UK pricing have yet been confirmed.
Thank you for reading 5 articles this month* Join now for unlimited access
Enjoy your first month for just £1 / $1 / €1
*Read 5 free articles per month without a subscription
Join now for unlimited access
Try first month for just £1 / $1 / €1