Team Sky-mad fan names son after Chris Froome
Indonesian Team Sky fan Cipto S Kurniawan names son Michael Froomey Wang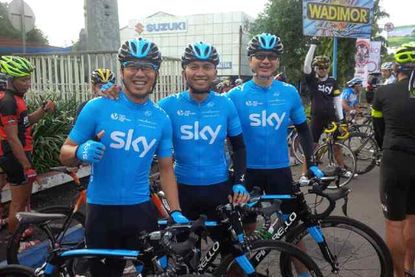 (Image credit: Cipto S Kurniawan)
Followers of professional cycling can often be fanatical about their chosen sport, but one Indonesian Team Sky fan has gone as far as naming his newborn child after his cycling hero, Chris Froome.
Cipto S Kurniawan of Pasuruan, East Java, Indonesia has named his new son Michael Froomey Wang in honour of the 2013 Tour de France winner.
Froome himself congratulated Kurniawan on the new arrival.
Kurniawan often posts photos of himself, family and cycling friends online, all in full Team Sky kit, with matching Sky-liveried Pinarellos.
But it doesn't stop there. Kurniawan also has an impressively-sized truck painted in the colours of the British-based WorldTour team and has a wardrobe painted in Sky colours.
Kurniawan has also met his heroes, posting selfies of himself with Froome and Sky team-mate Richie Porte.
We have to salute Kurniawan for his dedication to Team Sky. "Can anyone be SKYer than me," he proudly asked on Twitter.
Froome returns to action in the Tour de Romandie, starting on Tuesday April 28, in his build-up to the 2015 Tour de France.
All photos from Twitter/Cipto S Kurniawan
Thank you for reading 5 articles this month* Join now for unlimited access
Enjoy your first month for just £1 / $1 / €1
*Read 5 free articles per month without a subscription
Join now for unlimited access
Try first month for just £1 / $1 / €1