Thor Hushovd to retire at end of 2014
Norwegian former World Champion and double Tour de France green jersey winner Thor Hushovd will quit at end of season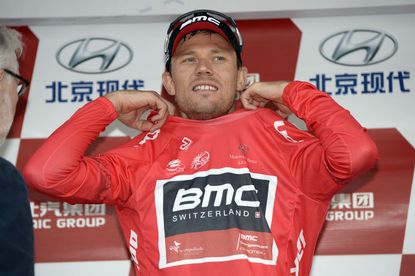 Thor Hushovd (BMC Racing) has announced that he will retire at the end of the season and end 15 years racing pro, including the 2010 world road race title and two green jerseys at the Tour de France.
"I will stop after the World Championships," the 36-year-old Norwegian told home broadcaster, TV2. "However, I'm not going to Spain as a tourist."
He raced the Tour de France every year since turning professional up until 2012, but like last year, he will not be apart of BMC's red and black team next month. Hushovd plans to race the Wallonia, Poland and Arctic stage races before the Worlds in Ponferrada, Spain, on September 28.
Hushovd announced his decision at a press conference this afternoon in Norway, where he said that he won't race the national championships this weekend. He explained that he needs to rest before the final part of his career. He abandoned the Critérium du Dauphiné on June 10, after the stage to Le Teil, saying, "There is something wrong with me and I'm suffering on the bike".
He won the national championships, the first Arctic Race of Norway, the Tour of Poland and stages in Poland, Beijing and Austria last year. His biggest wins were the 2010 Worlds in Geelong (Australia), Ghent-Wevelgem, Omloop Het Nieuwsblad and two points classifications (2005 and 2009) at the Tour.
Despite some 'flashes' of brilliance, he suffered over the last few years. "On March 12, 2012, I woke up with high fever. I was in bed for two and a half days. That's when my nightmare began," continued Hushovd. "I was knocked out by mononucleosis. I pushed myself with the virus. I had some flashes that gave me the desire to continue, but I've been too far down physically and mentally. I had to ask myself, 'Why bother?'"
Hushovd raced in Crédit Agricole's green colours for the majority of his career. He switched to the Cervélo TestTeam in 2009 and in 2012, joined his current team BMC. The worlds could be the perfect ending for Hushovd, who started as a pure sprinter and developed into one for longer and more demanding races, like the World Champs course in Ponferrada, Spain.
Thor Hushovd's major victories
2013
Tour of Austria; stage three
Tour of Poland; stage three
Tour of Poland; stage five
Tour du Haut Var; stage one
Norwegian road race champion
Arctic Race of Norway; stage two
Arctic Race of Norway; stage four
Arctic Race of Norway; overall
Arctic Race of Norway; points classification
Tour of Beijing; stage one
2011
Tour de France; stage 13
Tour de France; stage 16
Tour de Suisse; stage four
Tour of Britain; stage four
2010
Norwegian road race champion
Tour de France; stage three
World road race champion
Vuelta a Espana; stage six
2009
Tour de France; stage six
Tour de France; points classification
Tour of California; stage three
Tour du Poitou Charentes et de la Vienne; stage 4
Tour of Missouri; stage three
Tour of Missouri; sprint classification
Omloop Het Nieuwsblad
2008
Tour de France; stage two
Paris-Nice; prologue
Paris-Nice; points classification
Tour of the Mediterranean; stage one
Tour of Catalonia; prologue
Tour of Catalonia; stage one
Tour of Catalonia; points classification
Four Days of Dunkirk; stage six
2007
Tour de France; stage four
Giro d'Italia; stage seven
2006
Tour de France; stage 20
Tour de France; prologue
Vuelta a España; stage six
Vuelta a España; points classification
Dauphiné Libéré; stage seven
Tirenno-Adriatico; stage four
Tour of Catalonia; stage three
Tour of Catalonia; points classification
Four Days of Dunkirk; points classification
Ghent-Wevelgem
2005
Tour de France; points classification
Vuelta a España; stage five
Dauphiné Libéré; stage two
Tour of Catalonia; stage seven
Tour of Catalonia; points classification
National time trial champion
2004
Tour de France; stage eight
Dauphiné Libéré; stage one
Coupe de France
Classic Haribo
Grand Prix de Denain
Tour de Vendée
National time trial champion
National road race champion
2003
Dauphiné Libéré; stage two
Vuelta a Castilla y Leon; stage one
2002
Tour de France; stage 18
Tour de l'Ain; stage two
2001
Tour de France; team time trial
Tour de Normandie; overall
Tour de Normandie; points classification
Tour of Sweden; overall
Paris-Corrèze
Thank you for reading 5 articles this month* Join now for unlimited access
Enjoy your first month for just £1 / $1 / €1
*Read 5 free articles per month without a subscription
Join now for unlimited access
Try first month for just £1 / $1 / €1