TV presenter Charlie Webster to embark on London to Rio cycling challenge
Sports presenter Charlie Webster, cycling fundraiser Mike Tomlinson and former rugby league players Keith Senior and Paul Highton will ride 3,000 miles from London to Rio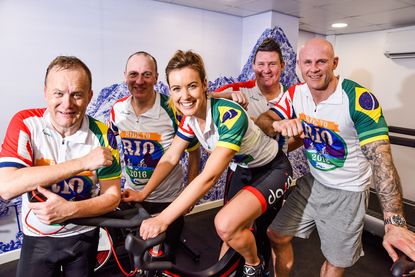 Sports presenter Charlie Webster will take part in a marathon cycle ride from London to Rio de Janeiro this summer to raise money for the Jane Tomlinson Appeal.
Setting off from the Olympic Stadium in Stratford, Webster and her four-strong team will ride over 1,300 miles from London to Lisbon, Portugal, before hopping on a plane to Recife, Brazil, to ride 1,600 miles to Rio.
>>> Group to attempt Alpe d'Huez and back in 24 hours on Boris Bikes for charity
She will be joined by Mike Tomlinson, the husband of prolific fundraiser Jane who died of cancer in 2007. Former rugby league players Keith Senior and Paul Highton will also ride the route and they will all be joined by various other riders along the route.
The challenge is expected to last six weeks in total, rolling out of London on June 27 and into Rio on August 4, with riders averaging 90 miles each day.
>>> Donate your old cycling kit to Matt Brammeier's 'Africa Rising' charity
Webster is no stranger to incredible feats of endurance, having ridden the three UK stages of the 2014 Tour de France for charity, as well as completing her first Ironman triathlon in 2015.
Jane Tomlinson raised over £1.8m for cancer charities while battling terminal cancer, completing the Race Across America in 2006 and riding from Rome to her home in Leeds in 2004. Mike has carried on her good work since, riding from Land's End to John O'Groats and from Istanbul to Leeds in 2010.
To donate to the Appeal and to support Webster and co on their Ride to Rio, visit the special Just Giving page or text JRTR70 £5 to 70070.
For more information on Dassi bikes, click here.
Thank you for reading 20 articles this month* Join now for unlimited access
Enjoy your first month for just £1 / $1 / €1
*Read 5 free articles per month without a subscription
Join now for unlimited access
Try first month for just £1 / $1 / €1