UCI PRESIDENT RUBBISHES ARMSTRONG TOUR BUYOUT RUMOURS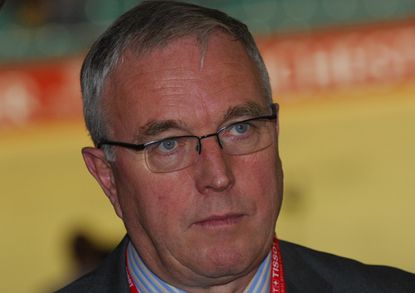 UCI President Pat McQuaid has dismissed rumours reported by the Sydney Morning Herald that Lance Armstrong and UCI vice-president Hein Verbruggen are involved in a possible buyout of the Tour organisers ASO.
The Australian newspaper article is provocatively entitled "Once he dominated, now Lance could own the Tour" and goes on to claim: ?some say it may be an Armstrong-UCI deal.?
Whilst at pains to say the story is a rumour, the article points to circumstantial evidence that might give it weight.
It points out there have been contacts and a marketing agreement between ASO and American company Anshutz Entertainment Group [AEG], which runs the Tour of California.
It also claims that Armstrong is supposed to racing California next year, that AEG have links to cancer charities and that Verbruggen has stood down from his work in the International Olympic Committee.
Contacted by Cycling Weekly, McQuaid has dismissed the whole idea of an Armstrong-UCI-Verbruggen takeover of the Tour as something that: ?never was and never will be a possibility.
?In fact, it?s so far removed from the truth that if it were closer to the date I would consider it an April Fool?s Day joke. It?s just not true?.
The UCI and ASO are currently negotiating a way out of the conflict between cycling?s governing body and the Tour organisers that has dogged the sport for several years. McQuaid is due to meet Victor Cordero, the director of the Tour of Spain - partly bought by ASO - this weekend in Madrid.
Thank you for reading 20 articles this month* Join now for unlimited access
Enjoy your first month for just £1 / $1 / €1
*Read 5 free articles per month without a subscription
Join now for unlimited access
Try first month for just £1 / $1 / €1