Valverde suspended by team as he awaits second CAS ruling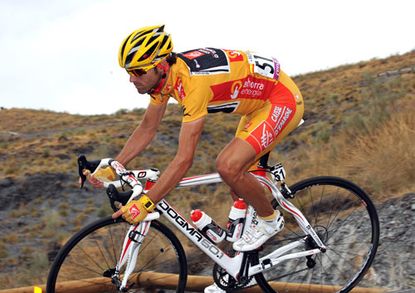 Alejandro Valverde has been suspended by his team Caisse d'Epargne as he awaits a second ruling by the Court of Arbitration for sport (CAS).
On March 16 CAS dismissed Valverde's appeal against the Italian Olympic Committee's (CONI) ban for racing on Italian soil. The ruling essentially said that CONI's evidence (they linked Valverde's blood sample taken during the 2008 Tour de France with a bag of blood stored by Dr Fuentes in Madrid using DNA) was solid and so their ban for doping stood.
The Union Cycliste International then immediately put in their own appeal to force the Spanish Cycling Federation to sanction Valverde and make his Italian ban worldwide.
If CAS rule in the UCI's favour, which they are expected to do, Valverde will be provisionally banned with immediate affect by the UCI, thus bypassing the Spanish Federation that has consistently failed to act on this situation.
Valverde has been linked to Operacion Puerto since the scandal first broke in May 2006, but only the Italian Olympic Committee took action as the Spanish authorities hid behind Spanish law that governed the outcome of Puerto.
The Spaniard has taken many high profile wins in the intervening years including Liege Bastogne Liege and the Dauphine Libere.
If the UCI's appeal is successful they are expected to ban Valverde for at least two years.
Thank you for reading 20 articles this month* Join now for unlimited access
Enjoy your first month for just £1 / $1 / €1
*Read 5 free articles per month without a subscription
Join now for unlimited access
Try first month for just £1 / $1 / €1