WIGGINS ON TRACK FOR FIRST AND ONLY T-MOBILE APPEARANCE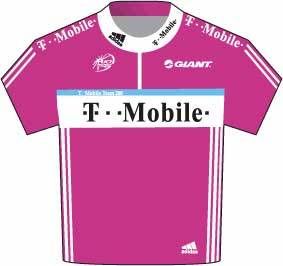 Bradley Wiggins will make what is likely to be his first and only appearance in T-Mobile colours at next weekend?s World Cup meeting in Beijing.
Wiggins is registered for the T-Mobile track trade team, which is a separate entity from the road squad.
But he won?t get a chance to wear the magenta jersey on the road after the German telecommunications company announced its withdrawal last week.
Wiggins and Mark Cavendish are entered to ride the Beijing World Cup for T-Mobile.
Although Wiggins is still contracted to the French squad, Cofidis, on the road, the UCI's rules permit him to be registered with the T-Mobile track team. He was due to join T-Mobile in the January ? that team is now called Team High Road.
Great Britain?s performance director David Brailsford said: ?The track team and the road team are separate. Katherine Bates rode for T-Mobile here in Sydney and we?ve been told by the UCI there?s not an issue, so Brad and Mark will be riding as T-Mobile next week.
?It means we can have Steve [Cummings] in the individual pursuit for Great Britain and Brad for T-Mobile. And it also means Brad and Mark can get some more time together as a Madison partnership.?
CW'S TRACK WORLD CUP COVERAGE
Pendleton bounces back to win Keirin gold
Sydney World Cup night 2: Hoy and Edgar complete 1-2
British quartet make Brown eat his words
Brown teases British team pursuiters before Sydney showdown
Pendleton pulls out of 500m
Sydney World Cup night 1: no medals yet
The Big Preview: Tonight at the Dunc Gray track
CW's Dummies' Guide to track cycling