Wiggle French Revolution sells out again… but there's some good news for those who missed out
There are still two French UKCE sportives available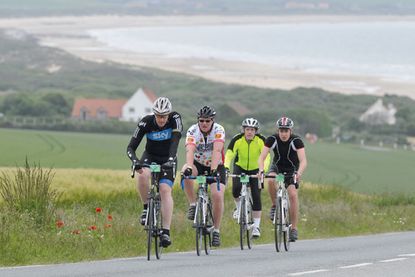 The incredibly popular Wiggle French Revolution sportive has sold out again but if you didn't get a spot there are still two more UKCE events this year that allow you to get a taste of French cycling.
The French Revolution sold out in just a week last year and has proven equally popular this year. The ride starts in Dover as the riders descend en masse onto a cross-channel ferry. After disembarking in Calais, you head along the clifftops of Dover and into Parc Naturel regional des Caps et Marais d'Opale.
If you missed out though, don't worry as you can still enter the Le Tricolore (Formerly known as the French Resistance but re-named for 2016) or the Le Classique Francais, which is new for 2016.
These sportives will follow a similar structure and allow you to enjoy a trip to France and a sportive in one. You will be met at Dover before being whisked across the channel to enjoy riding in the Pas de Calais region.
The Le Classique Francais gives riders the options of a 59 mile Standard ride or an 83 mile Epic ride. Both routes take in flat, fast roads passing windmills and waterways. After 27 miles the routes will split with Standard riders looping back and Epic riders tackling a 1.5 mile switchback, cobbled climb in Cassel, reminiscent of the Paris Roubaix.
For more information, click here.
Watch Sean Kelly on the cobbles
The Le Tricolore follows a similar route to the French Revolution and sends riders deep into the Parc Naturel regional des Caps et Marais d'Opale. You will segue between a series of picturesque French communes separated by short, punchy climbs. The Standard route is 64 miles and the Epic is 75 miles.
For more information click here.
Thank you for reading 10 articles this month* Join now for unlimited access
Enjoy your first month for just £1 / $1 / €1
*Read 5 free articles per month without a subscription
Join now for unlimited access
Try first month for just £1 / $1 / €1