Paul Oldham moves into National Trophy lead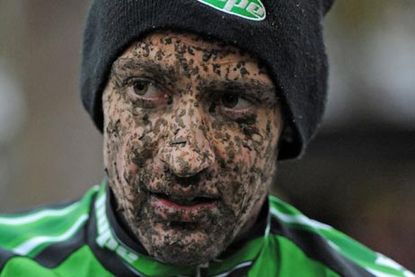 Paul Oldham (Hope Factory Racing) took over the lead in the National Trophy Series after finishing second to Belgian rival Kevin Eeckhout at Southampton Sports Centre on Sunday.
The Lancashire rider overcame sickness worries earlier in the day to hold off his British rivals and overhaul previous series leader Oli Beckingsale (Endura MTB) who was fourth across the line.
Although sticky the course at Southampton was a world away from the mud-fest of Ipswich a fortnight earlier - conditions which Eeckhout (Coolens Cycling Team) seemed to relish as he took the win by 39 seconds from Oldham, from Colne.
Eeckhout hit the front on the second lap, and after having a strong group of rivals on his wheel for the next few circuits, the gaps started to appear and he finally created some daylight.
By the end of the fourth lap he had a 20 second gap over Oldham, Hargroves Cycles' import Tom Van Den Bosch and Beckingsale, and it grew steadily to the flag.
"On the first lap I had a gap of about ten seconds, but then I crashed," said Eeckhout afterwards. "I wasn't sure about the right choice of tyres so I changed bikes and then it was perfect. I rode my own race at my own speed, and it was a little bit faster than the other guys!"
Meanwhile, Oldham admitted afterwards: "I almost didn't sign up this morning, I felt awful. I've not been ill but I thought I was going to be. But I felt strong and it was a good course."
In other categories Louise Robinson (Isla Bikes) secured her third consecutive victory in the National Trophy Series - despite riding with a recurring hamstring injury. She beat Adela Carter (Hope Factory Racing) into second spot by 34 seconds, and admitted afterwards: "I've got a hamstring injury that's been niggling for about six months.
"This morning going over the hurdles it didn't feel too good and I'm struggling to walk on it now. Even riding my bike, pulling up on the pedals hurts, so I took it steady. But Adela and Annie [Simpson] were pushing me so I had to go fast."
In other events around the country, Giles Drake secured a fourth win in the North West League, winning the Horwich Humdinger at Leverhulme Park in Bolton.
The 28-year-old Team Elite rider mastered muddy conditions to beat Peter Middleton (Zepnat RT) by around two minutes. Neal Crampton (Crosstrax) had been second heading into the penultimate lap, but a mechanical forced him to finish on foot and he dropped to third.
And in the eighth round of the Welsh League, Cycletec rider Jonathan Pugh won the Melin Mynach at Gorseinon on Sunday.
On the other side of the country, the Elmy Cycles Eastern League saw a Hungarian winner in Gabor Doroghazi.
The 35-year-old, who riders for Fruit 4 London , was just five seconds ahead of Steven Halsall (VC Moulin) at the end of the race at Hempton, near Fakenham in Norfolk.
And in the ninth round of the SRAM Notts and Derby League, reigning over-40s national champion Jim Bryan took victory, the Zepnat rider crossing the line 19 seconds ahead of his nearest rival at Holme Pierrepont in Nottingham to make it two consecutive wins in the series.
Thank you for reading 20 articles this month* Join now for unlimited access
Enjoy your first month for just £1 / $1 / €1
*Read 5 free articles per month without a subscription
Join now for unlimited access
Try first month for just £1 / $1 / €1