Peter Sagan issues apology for podium pinch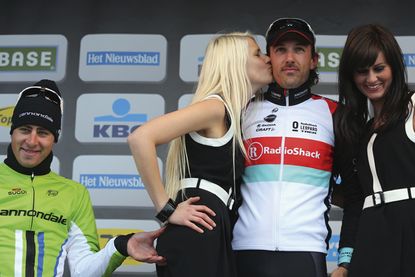 (Image credit: Getty Images)
Peter Sagan (Cannondale) issued a video apology yesterday after pinching a podium girls backside after the Tour of Flanders causing outrage. "It was wrong," he said in English, reading from a script, wearing non-branded clothing. "And I wasn't thinking."
The 23-year-old has been the standout rider of the classics so far, finishing second at Flanders, Milan - San Remo and E3 Harelbeke and pulling a wheelie as he crossed the line to win Ghent-Wevelgem. But on Sunday his popularity plummeted after his crude gesture.
While on the podium waiting while winner Fabian Cancellara received kisses from the podium girls, Sagan, standing on the lower second place step, reached over and pinched Maja Leye.
He walked off the podium, spoke with Sporza TV about the race, visited the anti-doping doctor and travelled from Flanders to Slovakia. Most people missed the pinch and initially there was little reaction, but a photograph of the incident made its round on the internet and hit the headlines.
"It was completely inappropriate. You can't do something like that," Leye, 25, told Belgium's Het Nieuwsblad. "Why didn't I just turn around and slap him? There were one million people watching. I was surprised to feel his hand while I was kissing Cancellara."
"I knew right away what happened and in a split second, I decided that I had to remain calm. If I had reacted, it would have been a lot worse. Afterwards I didn't speak to him, but I stared at him to say, 'You shouldn't have done it.'"
Sagan's misdemeanour. Courtesy Bryn Lennon / Getty
Social media
The photograph made its way around the world quickly thanks to social media like Twitter. Sagan used his @petosagan account to make his first apology.
"Was not my intention to disrespect women on the podium," Sagan wrote. "Just a joke, sorry if someone was disturbed about it." Read the tweet here
"What happened on Sunday was wrong," Leye reacted, via @majaleye. "I hope this never happens again. I'm sure it won't... Excuses accepted Read the tweet here
Sagan later used his Facebook account to upload a video apology. Watch the video here
"I sincerely apologise to Maja for what I did on the podium after the race," he said. "It was wrong of me and I wasn't thinking when I was up on the podium. I never should've done it. I'm so sorry and I apologise to Maja and anyone else I have offended. ... I promise to act more respectfully in the future."
Racing ahead, Brabantse Pijl
Sagan is now taking a planned break and will miss Paris-Roubaix. He returns next Wednesday to race Brabantse Pijl in Leuven, Belgium. Afterwards, the Amstel Gold Race and possibly Flèche Wallonne are on his schedule.
Italy's Cannondale team decided not to take action, saying Sagan apologised and understood his mistake. "I explained to him that he's a public figure and has to carry himself correctly," team manager, Roberto Amadio told Italian newspaper, La Gazzetta dello Sport. "We won't fine him, but we gave him an earful. He's 23, he can make mistakes."
Sagan will be able to apologise directly to Leye in Brabantse Pijl. As part of the Flanders Classics, the organiser uses the same podium girls. If he wins, it will surely make for an awkward podium presentation.
Thank you for reading 20 articles this month* Join now for unlimited access
Enjoy your first month for just £1 / $1 / €1
*Read 5 free articles per month without a subscription
Join now for unlimited access
Try first month for just £1 / $1 / €1