Specialized gets behind solid tyres in collaboration with Tannus
There are obvious advantages to solid tyres. Now Specialized is using them on its Alibi hybrid bike range.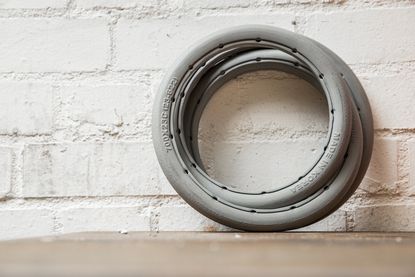 (Image credit: chris catchpole)
Specialized's Alibi hybrid fitness bike range comes with "airless" solid tyres. For an entry-level city bike without performance pretensions, airless tyres make a lot of sense. Obviously punctures are a thing of the past, as are pumps.
As reported by Bicycle Retailer (opens in new tab), Specialized's tyres are made by South Koeran company Tannus as part of a global exclusive deal for custom branded Tannus tyres.
We've tested Tannus's 700c airless tyres in the past and reckon that they work fine for training rides of a few hours. We've also tested them around town on a Brompton.
>>> Puncture Proof? We install solid Tannus tyres
Called the Nimbus Airless, the 700c tyres come in 38mm width, so there's plenty of contact with the road surface. The tyres are made of a micro-closed-cell polymer resin which Tannus calls Aither. It says it's similar to the compound used to make running shoe soles. Specialized quotes 900g for the tyre, which is similar to a standard city tyre and tube of this width.
Specialized reckons that the Nimbus Airless tyres account for about $35 of the price of the £375 entry level Alibi, but that for the target customer this is more than compensated for by the increased tyre lifespan – and the convenience of not coming out to a flat tyre after a long day at work.
Watch: five commuting tips
Other features of the Alibi (opens in new tab) include an alloy frame with rack and mudguard mounts, seven-speed Shimano Tourney shifting and Specialized's own V-brakes.
The Nimbus Airless tyres also feature on the other three bikes in the Alibi range. This includes a "step through" frame in the base model as well as Alibi Sport models with a cross bar and without.
Priced at £425, the Alibi Sport ups the spec to a triple chainset and Shimano Altus eight-speed shifting.
Thank you for reading 5 articles this month* Join now for unlimited access
Enjoy your first month for just £1 / $1 / €1
*Read 5 free articles per month without a subscription
Join now for unlimited access
Try first month for just £1 / $1 / €1