Alberto Contador greeted by huge crowd chanting 'one more year' as he returns home after Vuelta
Spaniard won't be tempted to keep riding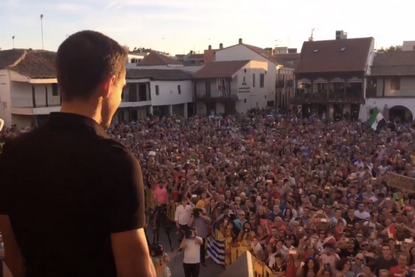 Alberto Contador was greeted by a huge crowd of more than 5,000 people as he returned to his home town of Pinto after finishing fifth in the Vuelta a España, his final race before retirement.
The Trek-Segafredo rider announced his retirement in August, but was welcomed home with the sight of thousands of fans chanting "un año más" ("one more year") in the main square of of the small town to the south of Madrid.
After being welcomed by the town's mayor, Contador stood on the balcony of the town hall to address the crowds, many of whom had come with flags and banners celebrating their hero's career.
>>> Nine Grand Tour stages that defined Alberto Contador's career
However despite the chanting of the fans, Contador was not going to be tempted to reconsider his decision to retire.
"It [un año más] is the phrase that I have heard repeated a lot in the Vuelta. Even my colleagues on the bus began to sing it ... and of course you could hear outside and people would be infected. It's the joke that I had with them the whole race," Contador said, as reported by AS.
"I think there's no better time to leave. When I started I had three dreams: to be a professional, to ride the Tour, and to win the Tour. To say goodbye in this way, I could not have done it in a better way."
Thank you for reading 20 articles this month* Join now for unlimited access
Enjoy your first month for just £1 / $1 / €1
*Read 5 free articles per month without a subscription
Join now for unlimited access
Try first month for just £1 / $1 / €1