Tejay van Garderen battered but upbeat after crash-marred Vuelta a España stage
Two crashes saw American Tejay van Garderen lose his second place overall in the Vuelta a España, but he says that his injuries are minor and he'll fight on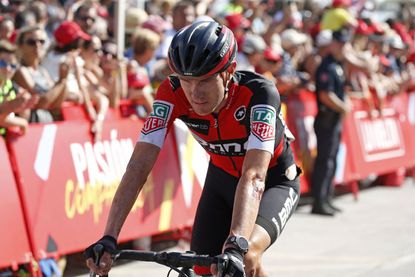 (Image credit: Yuzuru Sunada)
Tejay van Garderen and his BMC Racing team remain optimistic that he will recover to fight with the leaders in the Vuelta a España despite crashing twice in the sixth stage to Sagunt on Thursday.
The American fell near the top of the final climb with 37.1 kilometres to race. Some reports say that the road was raised at points due to tree roots underneath. Carlos Betancur (Movistar) fell with van Garderen.
"It was a bumpy road and I must have just hit something in my hand slipped off the bars," van Garderen explained after the stage. "It all happened kind of fast. I have to watch the video to really see how it happened but I don't want to watch the video! It will kind of be a mystery for me."
>>> Watch: Bizarre crash takes out Tejay van Garderen and Carlos Betancur at Vuelta a España
"I knew the [BMC team] car was going to be behind me and I had to get on the damaged bike. And I had to get a bike change but once I did that and we are off the descent, I thought now it's time to go into damage control."
Prior to the incident, van Garderen said that he was happy to be with the select group of favourites, including race leader Chris Froome (Team Sky).
"I felt great today and obviously the pace was very hard and I was on the limit but when I looked back and saw the selection being made that I was a part of it, I thought that was a good way to cement my spot on the GC."
>>> Five talking points from stage six of the Vuelta a España 2017
"I think I showed that I am good form and injury is minor. The legs are good and my morale's good. We will move forward and try to take advantage of any opportunity we get."
BMC sports director Yvon Ledanois told Cycling Weekly that van Garderen did well to limit his time loss.
"We are lucky because with two crashes we only lost 20 or 30 seconds to Froome," he said.
"OK, he would've been better if he didn't crash and finished in the front, but he's lucky because we didn't lose a lot of time in this crash. We need to see with the doctor, but it looks like he didn't fracture anything in it came out OK."
Van Garderen slipped again in a roundabout racing to trying to rejoin the lead group containing Froome. Amazingly, he only lost 20 seconds at the line. He fell from second overall at 10 seconds to fourth overall at 30.
The 29-year-old arrived to the team bus on Nicolas Roche's spare bike and with his jersey and shorts ripped in every imaginable spot.
"It's not the best scenario but hopefully crash is nothing much and he will be able to be up there again," Roche said.
"What happens tonight? I think that Tejay will be fine. It's not the first time that he has crashed. I'm pretty sure that he will be angry about it, but he only lost around 25 seconds.
"Today he was one of the very few that could follow both Contador and Froome. It was disappointing for him to lose that time, but I am pretty sure he will be up there for the rest of the week."
The race has only covered six of its 21 days and only one of its nine summit finishes so far. Also in van Garderen's favour, stage 16 features a 40.2-kilometre time trial.
"You saw the race today and you can imagine the race is far from finished. This was another hard stage and look at the results," Ledanois added.
"We know the race is not over yet. For sure, the first thing that important is that Tejay has not broken anything."
Thank you for reading 20 articles this month* Join now for unlimited access
Enjoy your first month for just £1 / $1 / €1
*Read 5 free articles per month without a subscription
Join now for unlimited access
Try first month for just £1 / $1 / €1