Rick Zabel, Giro's youngest rider, survives "longest day"
Even a famous surname can't take the pain out of the Giro d'Italia's mammoth 264km stage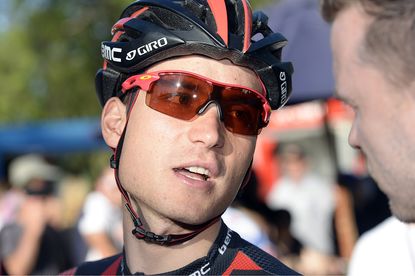 (Image credit: Watson)
Rick Zabel, the Giro d'Italia's youngest rider and son of sprint great Erik Zabel, completed the longest day of his life on the bike today in the Giro d'Italia.
Arriving in Fiuggi, south of Rome, BMC Racing's 21-year-old survived 264 kilometres, or a seven-hour, 40-minute stage.
Zabel could barely make his way down the stairs of the black and red team bus to chat to Cycling Weekly. Team-mate Philippe Gilbert had to encourage him to do so.
"Today was a really long stage, I never have done so many kilometres in my life in one day," said Zabel.
"I've never sat seven hours and 45 minutes on my bike, so yeah, that's hard, but luckily we did the first five hours quite easy. Then I had to pull with about 30 kilometres to race, and that was not so easy! I made it, though. Afterwards, I just sat in the gruppetto until the finish."
Zabel closed the 2015 Giro's longest stage 18-56 behind winner Diego Ulissi (Lampre-Merida). The stage completed the first week of Zabel's first Grand Tour.
"I'm suffering on the hard stages, but still I feel I can do this. I feel quite good after seven days. I think the big progression or big step will come after the Giro d'Italia ends," Zabel added.
"I'll try to go as long as I can. The best would be to make it to Milano. If I have this Grand Tour in my legs then I'll make a big step."
Zabel won the 2013 Under 23 Tour of Flanders with the Rabobank development team and turned professional with BMC for the 2014 season as a 20-year-old.
He is one of four 21-year-olds in the Giro d'Italia along with Sky's Sebastian Henao, but counting days, the youngest.
>>> Giro d'Italia preview: Stage eight
"Too much too soon? If I were too young, I wouldn't have started. I spoke a lot with BMC about it and we have a good plan. [BMC Sports Directors] Fabio Baldato and Valerio Piva have an eye on me and look out for me. If I'm getting too tired I won't start the next day, but so far, I'm fine."
Italian Alessandro Petacchi (Southeast), at 41, is the oldest of the racers at the 2015 Giro. Petacchi, who counts 22 stage wins, was one of Erik Zabel's rivals and then team-mates in team Milram.
"We haven't spoken yet in this Giro," Zabel added. "I know him well, he's a friend of my father. If I see him I greet him, but I haven't spoke to him yet."
Zabel appeared tired despite just taking a shower, and ready to search for some of Fiuggi's famous therapeutic water.
"Now, I just want a good dinner and good massage," he said. "Then I want to sleep to rest for tomorrow."
Thank you for reading 20 articles this month* Join now for unlimited access
Enjoy your first month for just £1 / $1 / €1
*Read 5 free articles per month without a subscription
Join now for unlimited access
Try first month for just £1 / $1 / €1