Galibier cut from Giro d'Italia route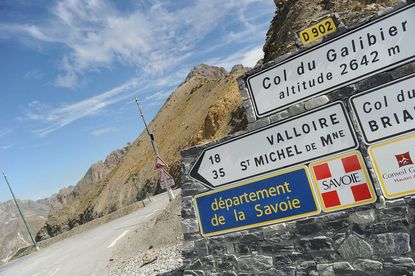 The Giro d'Italia organiser decided to cut the Col du Galibier finish and seriously modify tomorrow's 15th stage due to snow. Instead of climbing to 2642 metres to Galibier, which would have been a first for the Italian Grand Tour, the stage will end in Valloire.
Giro technical director, Mauro Vegni took the move this morning, which cuts the finish by 18.1 kilometres.
Vegni must also cut out the Col du Mont Cenis at 2094 metres, which would have welcomed the peloton into France. The move means the riders will likely be bussed from the Cesana Torinese start, through the Frejus Tunnel and into France. The race could then start in St. André, head over the Col du Télégraphe as planned and finish in Valloire.
The stage may be cancelled completely. If so, it could be re-scheduled for the second rest day on Monday. However, critics have questioned why the organiser failed to already have a plan B in place.
Jafferau re-route
Today's leg to Bardonecchia and up to Jafferau, the second summit finish of the race, was also modified due to snow. This morning Vegni decided to re-route around the Sestrière at 2035 metres.
The new route took the Susa valley to arrive in Bardonecchia and the final 7.3-kilometre push to Bardonecchia. The modification cut the distance from 180 to 168 kilometres.
The weather appears to be improving for next week, which also features climbs over Gavia and Stelvio.
POST-STAGE UPDATE
After 24 hours and an assessment of the weather condition, the Valloire Prefecture has revised its position, by authorizing the original course of stage 15, the Direction of the Giro d'Italia integrally confirms the original itinerary, except of the last 4.25kms. The finish will be in Les Granges du Galibier - Monument Pantani.
The start, initially scheduled for 12:30, is postponed to 1:00.
Considering the ever-changing weather conditions, should the weather deteriorate during the night, the direction of the Giro reserves the right to make further modifications to protect the riders' and caravan's safety.
Thank you for reading 20 articles this month* Join now for unlimited access
Enjoy your first month for just £1 / $1 / €1
*Read 5 free articles per month without a subscription
Join now for unlimited access
Try first month for just £1 / $1 / €1