Giro d'Italia Director Zomegnan selects first team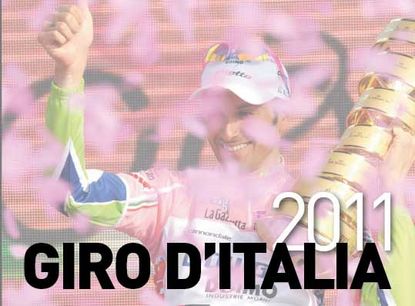 The Giro d'Italia is a step ahead of its Grand Tour rival, the Tour de France. Race Director Angelo Zomegnan announced the first team invited to next year's race: Farnese-Neri, the team of Italian Champion Giovanni Visconti.
"Giovanni Visconti will be at the start of the Giro d'Italia in 2011, the 150th anniversary of the Unification of Italy," said Zomegnan on Friday. "We could not go without the tricolour [national] jersey in the Giro."
Visconti held the pink leader's jersey at the 2008 Giro d'Italia for eight days when racing at the side of Quick Step team-mate, Paolo Bettini. After Vuelta a España winner Vincenzo Nibali, he is Italy's most famous Sicilian cyclist. The race travels to Mount Enta on Sicily next year to celebrate the start of Giuseppe Garibaldi's fight to unify Italy 150 years ago, in 1860.
"This edition of the Giro," added Zomegnan, "will be in Sicily on May 15 for a great stage where it is only right to have Visconti. He, Nibali and the other 15 professionals are taking the largest island of Italy to the top."
Second division team Farnese-Neri (this year known as ISD-Neri) invitation came early since Zomegnan typically announces the 22 teams in March. This month, he is due to meet the organisers of the other two Grand Tours, the Vuelta a España and the Tour de France, and the International Cycling Union (UCI) to clarify the rules on inviting the 18 ProTeam, first division teams.
The invitation came as a surprise to Visconti.
"I was without words, it's my first win of the year," he said.
"The Giro d'Italia is the most exciting race on the calendar year, and the feeling will be even more intense since this year it returns to Sicily. Plus I will have the tricolour jersey on. I have to thank Zomegnan for his faith. We hope to pay him back as a team and as individuals, with the aim of winning at least one stage and do well in the others."
Visconti said that in the future he will aim for the general classification win and that it does not make sense to fight for a 15th place this year.
Related links
Nygaard, Sciandri and Lloyd comment on 2011 Giro route
Giro goes one up on Tour with spectacular 2011 route
Nibali's Giro d'Italia?
Thank you for reading 20 articles this month* Join now for unlimited access
Enjoy your first month for just £1 / $1 / €1
*Read 5 free articles per month without a subscription
Join now for unlimited access
Try first month for just £1 / $1 / €1