Cavendish GB's best bet for Olympic gold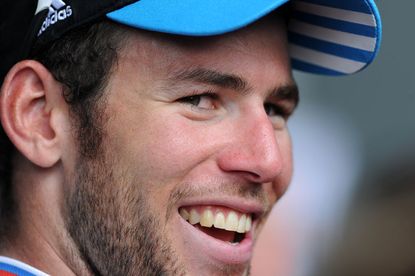 British Cycling performance director David Brailsford admits the London 2012 Olympic Games road race will be hard to call but is confident in putting all resources behind sprinter Mark Cavendish.
Great Britain announced its five-man road team today with newly crowned national champion Ian Stannard as well as David Millar, Bradley Wiggins and Chris Froome also selected.
All of those riders, excluding Stannard, are currently competing at the Tour de France and will assemble on The Mall six days after it finishes with the objective of winning gold.
Brailsford said selection was based on merit adding course suitability is always a factor.
The 250km course is harder than the one Cavendish won on at the world championships in Copenhagen, Denmark last year and notably includes nine laps of the Box Hill climb.
Rival nation Australia has hinted it will have more than one option at the July 28 race where a bunch sprint finish may or may not eventuate. But that's not the case for the home favourites.
"It's the type of course where everybody has got a view," Brailsford said. "It could go one way or another, I don't think it's that easy to call, but we've selected a team based around Mark Cavendish.
"There are other teams quite clearly going to go there with other strategies, which will be more about trying to break the race up. I think you'll see them at the front they'll be trying to make it hard.
"Everybody who has got a desire to have a sprint finish will be trying to keep it together. It won't just be one team you'll have two schools of thought going into the race and see which one wins out."
Millar's inclusion comes after the Court of Arbitration for Sport (CAS) this year overturned a British Olympic Association (BOA) bylaw of lifetime bans for doping offenders. He, Stannard, Wiggins and Froome helped deliver Cavendish to a gold medal at the 2011 world titles.
"We've selected him before, we select him for GB every year and he's selected for the same qualities that he's been selected for this time," Brailsford said.
"He is experienced, he can read a race very well, he's a very good rouleur, he'll be able to cope with those climbs if he's in the best of condition, and of course in that long run back into London he'll be a very valuable asset to have there."
Stannard will be an effective workhorse at the Olympics.
"He's stepped-up a level and his consistency, the fact that you just know that he will give everything for that team is what has got him in," Brailsford said.
Wiggins and Froome will both compete in the August 1 time trial.
Thank you for reading 20 articles this month* Join now for unlimited access
Enjoy your first month for just £1 / $1 / €1
*Read 5 free articles per month without a subscription
Join now for unlimited access
Try first month for just £1 / $1 / €1