Wiggins: Tour was perfect Olympic TT preparation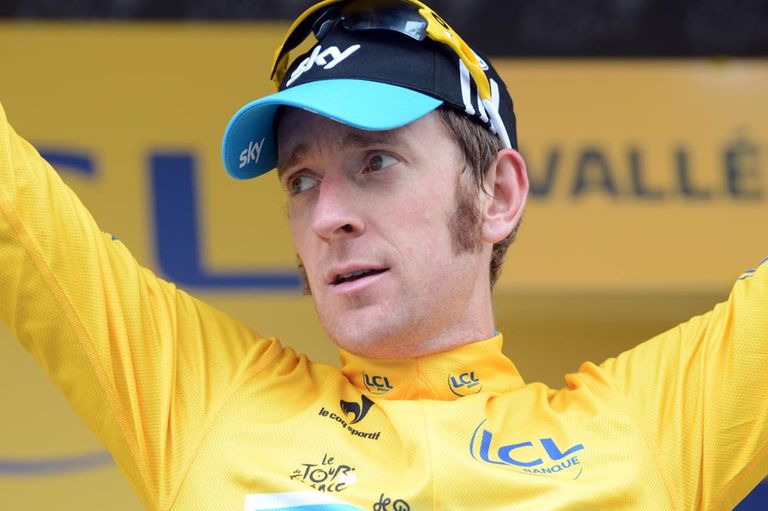 Bradley Wiggins goes into Wednesday's London 2012 time trial with 250km of racing in his legs from Sunday, but after the experience of the Tour de France, he's confident he can cope.
"We've just been at Tour for a month, hanging around the podium, standing up, doing press conferences. Some days we had a couple of hours drive in the bus." Wiggins said. "You've got a 250km race and three days to recover on your backside in a nice hotel."
"The Tour's a great 'worse case scenario' for giving you confidence for the Games."
Wiggins won both time trials in this year's Tour, and is a genuine medal contender, if not out-right favourite, for the Olympic TT. During the Tour's first time trial, 41.5km from Arc-et-Senans to Besancon he beat Sky trade and national team mate Chris Froome by 35 seconds and Swiss rider Fabian Cancellara by 57 seconds.
Current time trial world champion Tony Martin (Germany) was two minutes 16 seconds down after breaking his wrist in a crash on stage one.
In the Tour's final 53.5km time trial, on the penultimate day of the race, Wiggins again beat Chris Froome, this time by one minute 16 seconds. Luis Leon Sanchez (Spain) was third. Both Fabian Cancellara and Tony Martin had retired from the race by that point. "That last time trial was the best I've ever done in terms of numbers, and we had some tough days before that."
Usually a Tour rider would head striaight home after three weeks' of racing, and switch off. A few post Tour crits might be in order, but they're for entertainmnet not out-and-out racing.
Once a rider switches off, their performance can plummet, their diet and discipline becomes less strict and their body relaxes. Knowing that the Games followed a few days on from the Tour, the British riders have stayed 'in the zone'.
Team Sky Chef Soren Kristiansen is with the British team, making their food, as are the legions of coaching staff that provide the back-up the riders need so they don't experience a dip in performance.
"Everyone's in great shape," said GB performance director Dave Brailsford. "The Danger at the Tour is going in to descendency. But everyone's come out better than they went in. The question is managing fatigue. They look well and they've ridden the Tour knowing [they'll race the Olympics]."
"Allow [Wiggins] to taper and freshen up and with the rebound affect he can be very confident of being on top of his game."
London 2012: Live text coverage of cycling events
August 1: Men's and women's time trials
July 28: Men's road race
July 29: Women's road race
London 2012: Latest news
Cancellara in, Evans out of time trial
CW eyewitness: Remember the name
Cavendish finds solace in commitment of his team mates
The scene at Box Hill
Tickets for Box Hill? You may need another...
Bradley Wiggins' UKSI Olympic bike
Hoy helicoptered in for opening ceremony
Box Hill closed after local riders give security the slip
Boonen and Gilbert train on Box Hill Olympic circuit
Goss fresh for Olympic Games assault
Trott on top: London 2012
Hoy to be GB flag bearer at London 2012 opening ceremony
Millar: I think about Olympics all the time
Cavendish recognises advantage in missed Tour chances ahead of Olympics
Kenny not Hoy selected for London 2012 sprint
German and French Olympic teams sneak in fourth sprinter
Cavendish: GB's best bet for Olympic gold
London 2012: Team info
Men's road race start list
Women's road race start list
Men's time trial start list
Women's time trial start list
Team GB rider profiles
Great Britain track team confirmed
Bronzini leads Italian Olympic cycling team
British Olympic men's road race team announced
Armitstead and Cooke lead GB women's road cycling team
London 2012: Event guides
Olympic time trial routes announced
Olympic Games women's road race: Who will win?
Olympic Games men's road race: Who will win?
Download detailed Olympic road race route map
London 2012 cycling schedule
London 2012: Reports
Cycling events medal table
Women's road race: Armitstead wins silver as Vos strikes gold
Men's road race: Vinokourov wins as Cavendish misses out
London 2012: Photos
Women's road race by Andy Jones
Women's road race by Graham Watson
Men's road race by Andy Jones
Men's road race by Phil O'Connor
Men's road race by Graham Watson
Team GB road race training on Box Hill (July 26)
London 2012: Podcasts
Cycling Weekly podcasts on Soundcloud
London 2012: TV schedule
London 2012 BBC TV cycling coverage schedule
London 2012 Eurosport cycling coverage schedule