Four million ITV viewers for Tour de France stage two finale
... but that was a lot less than 11.5million for the British Formula One Grand Prix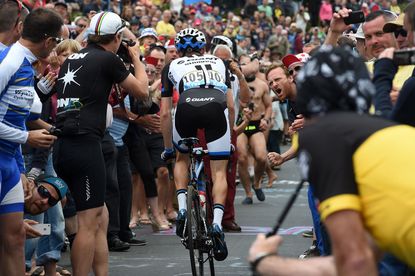 By Chris Marshall-Bell
Millions of us may have lined the Tour de France Grand Depart streets – but millions more opted for alternative sports viewing on their televisions at home.
Non-consolidated BARB figures, obtained from the media agency Republic of Media, reveal that armchair Tour fans were in the minority across the weekend of July 5 and 6.
ITV's coverage peaked at 2.8million on Saturday and 4million viewers in the closing kilometres of Sunday's dramatic stage 2.
This, though, was comparatively less than the 11.5million high that the British Formula One Grand Prix attracted on BBC 2.
And support from the living rooms for the Tour was in the shadow of Novak Djokovic and Roger Federer at Wimbledon: over 19.2 million watched the Grand Slam final at one given moment.
Still, though, F1 and the tennis didn't attract between 2.5 and 4 million live spectators (whichever estimated figure you believe) as the Tour did.
Thank you for reading 20 articles this month* Join now for unlimited access
Enjoy your first month for just £1 / $1 / €1
*Read 5 free articles per month without a subscription
Join now for unlimited access
Try first month for just £1 / $1 / €1