Chris Froome: 'Vuelta win seals my place in cycling's history'
Briton says there's no better place to wrap up the Vuelta than on the legendary Angliru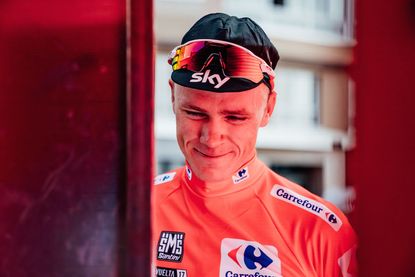 Beaming with happiness that, he admitted, was mixed with a good dose of relief having clinched the Tour de France-Vuelta a España double that had previously evaded him, Chris Froome reflected on his achievement having all but sealed victory in the Spain's national tour thanks to a combative performance on the Alto de l'Angliru, where he pushed his lead out to more than two minutes over main rival Vincenzo Nibali.
"There's a good reason why no one has won the Tour and then gone on to win the Vuelta less than one month later. It's a huge challenge, a huge undertaking," Froome explained to the press.
>>> Five talking points from stage 20 of the Vuelta a España
"To reach the summit today and know that I pretty much have the victory secured with just the procession left into Madrid is such an overwhelming feeling."
"It's moments like this now that make all the sacrifices, all the time away from home and the family, well worth it. It's emotional. It's such an incredible feeling."
Asked about the significance of his win and where it might place him in cycling's pantheon, Froome said: "I could only have dreamed of being in this position of making history, to be the first British rider to win the Vuelta, the first rider to win the Tour and to go and win the Vuelta. This is sealing my place in the history of the sport. It's special."
The Sky leader admitted he had been pushed right to his limits over the Vuelta's three weeks during what he described as "an up-and-down race, literally on occasions."
Of the Angliru, he said: "It was a hell of a finale after three weeks of full gas racing and a fitting finale for this edition. Coming into the stage everything was still up in the air.
"This was a short stage, with lots of climbing, some tricky and wet descents, and that all made for very aggressive racing. I was counting down the kilometres until we got onto the final climb.
"Then I felt good in myself, I had my team around and they did an absolutely fantastic job. They've been with me every step of the way."
He was full of praise for the fans that have supported him over the past three weeks and for the Vuelta itself. He acknowledged he has a special relationship with the race.
"The Tour is the biggest prize for a pro cyclist, it's the biggest event we have on the calendar. But, for me, the Vuelta represents a different kind of bike racing.
"It's more of a physical challenge than the Tour, given the number of finishes on mountains, the aggression and the conditions. Over the three weeks we've had days of over 40 degrees, days like today when it's 10 degrees and raining, extremely strong winds. It's such a brutal race," he said.
He said prior to the stage that he wasn't go into the Angliru looking for his third stage win of the race, emphasising that overall victory was the priority.
In the end, he and team-mate Wout Poels were only 17 seconds down on stage winner Alberto Contador at the line. But Froome had no regrets.
"I gave absolutely everything I had today," he said.
"This was an extremely fitting way for Alberto to say goodbye to pro cycling. He's an extremely aggressive rider and to have attacked before the final climb on the last descent and to keep the lead to the finish… What can I say other than "chapeau"?
"He's a rider who brings so much flair, so much aggression to the races. For sure it's going to be easier for me when he's not around, but at the same time I have to respect what he did today. It was extremely fitting before his home crowd. Adios!"
When asked about his last encounter with the Angliru back in the 2011 race, when he finished second on GC for the first time, he explained: "It feels quite fitting, quite romantic in a way, that this is where I first had my opportunity to go for my own ambitions in a Grand Tour in 2011 when my leader struggled.
"So it's amazing to come back here again and for this climb to have been the ultimate test of this year's Vuelta. To have finished it off the way we did today is just amazing."
As was the case after he wrapped up his fourth Tour title in July, Froome said that he's still highly motivated to win more Grand Tours and achieve more in the sport.
"For now, though, I just want to get to Madrid tomorrow and take it from there."
"Of course in a week I hope to line up at the World Championships in Bergen for the team time trial and perhaps the individual time trial," Froome added.
"We'll see how things go. It depends on how I recover from this and how I'm feeling in the first few days of next week having made such a big effort – maybe I'll look at the weather forecast as well!"
Thank you for reading 10 articles this month* Join now for unlimited access
Enjoy your first month for just £1 / $1 / €1
*Read 5 free articles per month without a subscription
Join now for unlimited access
Try first month for just £1 / $1 / €1
Peter Cossins has been writing about professional cycling since 1993, with his reporting appearing in numerous publications and websites including Cycling Weekly, Cycle Sport and Procycling - which he edited from 2006 to 2009. Peter is the author of several books on cycling - The Monuments, his history of cycling's five greatest one-day Classic races, was published in 2014, followed in 2015 by Alpe d'Huez, an appraisal of cycling's greatest climb. Yellow Jersey - his celebration of the iconic Tour de France winner's jersey won the 2020 Telegraph Sports Book Awards Cycling Book of the Year Award.