Taylor Phinney: I had that haircut first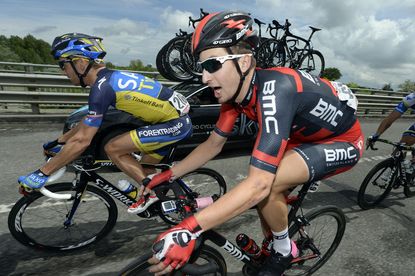 "Hold on, I had that haircut first," insists American Taylor Phinney. "I did that for the first time last year, in May, at the Giro so hold your horses."
Phinney has had a haircut before the 2013 UCI Road World Championships at his home, away from native Colorado, in Tuscany, Italy. "I got the sides shaved off recently again so I'm back to my Vanilla Ice look," he says.
The "Vanilla Ice look", you see, is something quadruple Tour de France stage winner Marcel Kittel has made his own this season with fans, and even his own Argos-Shimano teammate Koen de Kort, imitating the look over summer.
"He wins more often than I do, so you see his face more often, but I'd like you to fact check the hair please because I was definitely the innovator of that one. "I'm not going to let Marcel Kittel Mark Zuckerberg me, because my hair is Facebook," Phinney continues making a pop culture reference to film The Social Network.
The 23-year-old is speaking to Cycle Sport from Tuscany having finished the first of two BMC team time-trial training camps that Bobby Julich has overseen. "We did a hour long race simulation, which is something you don't really get to do very often other than in the race," he says.......
Read the full article in the November edition of Cycle Sport, out now priced £4.50.
Cycle Sport is also available worldwide on iPad, Google Play, zinio.com Nook and Kindle.


Thank you for reading 10 articles this month* Join now for unlimited access
Enjoy your first month for just £1 / $1 / €1
*Read 5 free articles per month without a subscription
Join now for unlimited access
Try first month for just £1 / $1 / €1
Sophie Smith is an Australian journalist, broadcaster and author of Pain & Privilege: Inside Le Tour. She follows the WorldTour circuit, working for British, Australian and US press, and has covered 10 Tours de France.