Team GB's juniors closing the gap to Denmark's best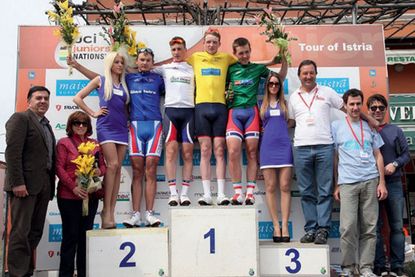 >>>British juniors success continues in Nations Cup>>>
The Danes have been dominating the junior race scene, developing the next generation of World Tour professionals, Team GB's Olympic Development Program have been snapping at the heels of the worlds best on the Junior main stage.
"You learn so much more on training camps where you can develop skills," explains ODP head coach Matt Winston. "On races you're always rushing around, but we get a lot more content and learning on a camp." Olympic champion Joanna Rowsell, herself on the ODP in 2006, agrees.
"I used to get my head kicked in; it would get so hard, the training," she recalls. "It was good for me to get a lot of track time and a lot of experience on the skills side of cycling, but the best thing about being on camp was being able to rest!"
However the approach is in stark contrast to another high flying junior nation: Denmark. The Danish Cycling Federation's high performance manager Lars Bonde explains that, despite having relatively few riders, his country's juniors benefit from a well-developed race calendar that allows them to meet in competition every weekend.
"That sets the bar high for the competition," he adds. "It's very hard to be a new junior racer in Denmark because in your first race you come up against the world's best. But that competitive environment means we develop world-class juniors."
The approach seems to be working. Danish riders have won junior Paris-Roubaix for two consecutive years and led the Nations Cup competition last season. The intensity can have its downsides, however.
"We often have to tell juniors that they are training too much," Bonde adds. "We try hard to tell the juniors who are not winning Nations Cup races all the time that their time could come."
"Maybe they are not as good as [2013 Junior Paris-Roubaix winner] Mads Pedersen right now, but that does not mean that they could not be WorldTour riders when they are 25."
This article was first published in the May 23 issue of Cycling Weekly. Read Cycling Weekly magazine on the day of release where ever you are in the world International digital edition, UK digital edition. And if you like us, rate us!
Thank you for reading 20 articles this month* Join now for unlimited access
Enjoy your first month for just £1 / $1 / €1
*Read 5 free articles per month without a subscription
Join now for unlimited access
Try first month for just £1 / $1 / €1